Redknapp support for Blues
Harry Redknapp hopes Chelsea win the Champions League regardless of whether it ends Tottenham's hopes of qualifying.
Last Updated: 20/04/12 6:03pm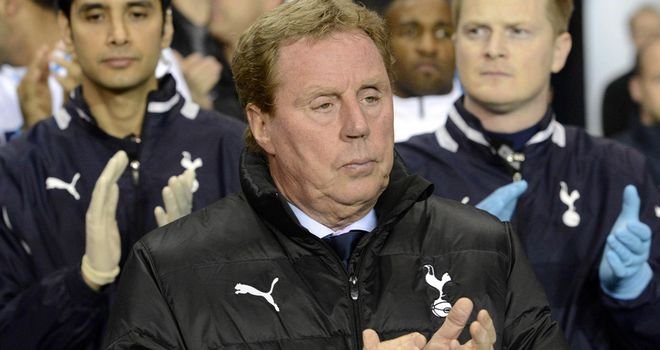 Harry Redknapp hopes Chelsea win the UEFA Champions League regardless of whether it ends Tottenham's hopes of qualifying for the competition.
The Blues head to Barcelona for the second leg of their semi-final with a 1-0 advantage thanks to Didier Drogba's strike at Stamford Bridge.
The Spanish giants are still favourites to progress, because of their incredible home record - they have not lost at Camp Nou since September 2010 - but Redknapp thinks Chelsea stand a good chance of making the final.
Should the West London club win the competition, only three, rather than the customary four, teams will qualify for the Champions League via the Premier League.
With Spurs sitting fourth in the table, Redknapp would be forgiven for supporting Barcelona, but, surprisingly, he wants Chelsea to win.
Debate
"I'll be rooting for Chelsea," he said. "I haven't even thought about [missing out if Chelsea win the competition].
"If Chelsea stay in it, they've got a Champions League final to prepare for, and then they've got a lot on their plate haven't they? I want to see an English team win it anyway and I think they can do it."
At the start of 2012, Redknapp would not have been troubled in the debate about the effect Chelsea winning the Champions League would have on his team.
Back then Spurs were within touching distance of the top of the table, but now after a dramatic collapse they find themselves on the brink of dropping out of the race for the Champions League.
A horrible run of one win in their last eight league games means the Londoners could be sixth in the table by the time they kick off at QPR on Saturday evening, if Newcastle beat Stoke and Chelsea overcome Arsenal.
Strong squad
Having kept pace with the league leaders for so long, many, including midfielder Scott Parker, believe finishing outside the top four would constitute failure for the club, but Redknapp disagrees.
"I don't think it's a failed squad whatever we do," he said. "We're not entitled to be above Chelsea. Look at their bench the other night. They had people like (Fernando) Torres and (Daniel) Sturridge and other top players.
"I wouldn't say we've got a stronger squad than Chelsea - no way - or a stronger squad than Liverpool come to that.
"If we finish fourth, we'll be delighted and if we finish third, it will be even better. I can't fault the effort of the players this year whatever they do."