Harry hints at Drogba interest
Harry Redknapp would be interested in signing Didier Drogba this summer but admits the Chelsea striker's wages may scupper any deal.
Last Updated: 21/04/12 11:59am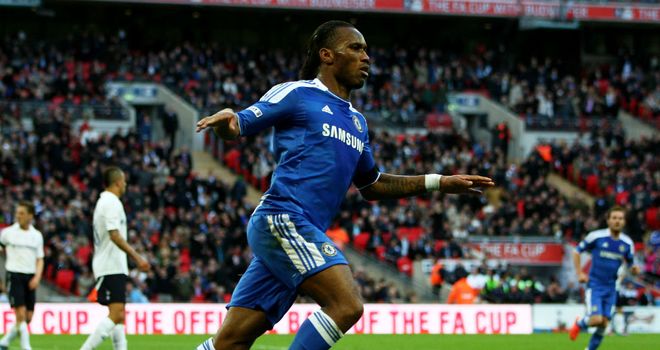 Tottenham manager Harry Redknapp would be interested in signing Didier Drogba on a free transfer this summer but admits the Chelsea striker's wage demands may scupper any potential deal.
At 34 years old, many thought Drogba was a fading force, but he has provided his critics with a timely reminder of his talents over the past few days.
The Ivory Coast frontman belted a stunning volley past Carlo Cudicini to help Chelsea cruise past Spurs into the FA Cup final last weekend and then hit the winner in the first leg of the Blues' UEFA Champions League semi-final against Barcelona three days later.
Drogba could leave Stamford Bridge this summer after so far failing to agree a contract extension.
And, although Redknapp is interested, he expects the former Marseille man to be tempted to China, where he is being courted by mega-rich Shanghai Shenhua, who are managed by Drogba's former Chelsea team-mate Nicolas Anelka.
Powerhouse
Redknapp said: "He is a free but I was just reading in the paper about him going to China.
"It seems the money in China at the moment is incredible. Players can go there and make a fortune.
"He would be a great player for Chelsea to keep or for somebody else to take. Anyone would be interested but you would have to be able to afford his wages. That is going to be the key. If he is on a free you are going to have to pay him a fortune.
"But he is a powerhouse when he is on his game. He is strong and almost unplayable when he is really at it.
"It was an amazing goal he scored against us. He smashed it from an angle.
"His strength in holding (Spurs defender William) Gallas off and then hitting the ball from where he did, there aren't too many players who could have done that."
Decision
Drogba insisted on Wednesday night he still had two or three years left at the highest level and Chelsea's interim boss Roberto Di Matteo agreed on Friday, saying: "Yeah, whether it's for Chelsea or somebody else."
Di Matteo, who currently has no input on comings and goings at Stamford Bridge, added: "You've seen him many, many years now over the course of his career here and I'm sure you've made your own assessment of what kind of character he is.
"He's been with the club a long time and he's part of the history of this club - like many players that we've had here - and he always will be.
"The final decision (over his future) is going to be the club's decision."