Harry targets four wins
Harry Redknapp is targeting four wins from Spurs' remaining Premier League matches to clinch a UEFA Champions League place.
Last Updated: 25/04/12 9:04pm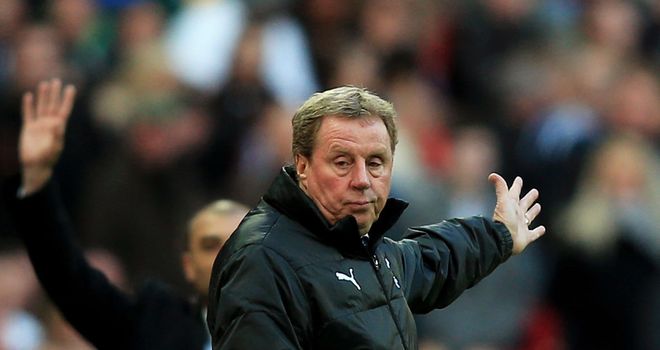 Tottenham manager Harry Redknapp is targeting four wins from their remaining Premier League matches to clinch a UEFA Champions League place.
A slump in form has seen the North Londoners slip out of the top four, although Redknapp insists there are still four clubs vying for a place in next season's elite club competition.
Tottenham do battle with Blackburn, Bolton, Aston Villa and Fulham between now and the summer and Redknapp remains of the firm belief that they can turnaround their form.
The club have only won one of their last six in league action, losing their last two but Redknapp says nothing has changed at White Hart Lane from what they have been doing all season.
The former Portsmouth manager thinks fatigue might be a factor with his squad, while injuries to the likes of Younes Kaboul and Michael Dawson have not helped.
Nothing's changed
"Nothing's changed. We're playing the same way. We train, everything's been the same," he told Sky Sports News. "There's been no change at the club.
"I've felt we've played well, apart from the Norwich game at home. Chelsea in the cup semi-final didn't go our way, but in the league, apart from the Norwich defeat, I think we've played very well.
"We've just got to pick ourselves up. Nothing's change. I think maybe one or two are looking a little bit tired and we've run short in terms of having a strong squad. I'm not in a position where I can change my squad and make eight changes.
"We've lost some key players at the wrong time, Kaboul, Dawson and now Assou-Ekotto. Three defenders look like they're out for the rest of the season so it's been difficult.
"No excuses. We've got four games to go. We can still do it. We've got to win four games. We've got to go on a good run now."
Focus
Redknapp is not dwelling on the club's recent poor form, stating his only focus is on Tottenham claiming a top-four finish this season.
Chelsea booked their place in the UEFA Champions League final with a remarkable 3-2 aggregate success over holders Barcelona but Redknapp is not worrying about the Blues lifting the trophy.
Should the Stamford Bridge club be crowned champions of Europe at the Allianz Arena in May then there would only be three remaining places for Premier League teams.
"We've got to make sure we finish fourth first of all, or third," he continued. "We've got to make sure we're in a position where we qualify, if we don't it doesn't matter what happens.
"What can you do? You've got to take it as it comes. We've got to make sure we get that position and see if they win the cup then that would be it.
"But if they don't you've got to make sure you're in there. You don't want to not qualify and then they don't win the cup and then you think 'well if only we'd made it'".
"We've got to go for that qualification and see where it takes us. It's still wide open, Arsenal, Chelsea, ourselves and Newcastle. It's still any two from four."
No departures
There have been suggestions the likes of Luka Modric and Gareth Bale could leave Spurs this summer should the club miss out on next season's Champions League.
However, Redknapp insists chairman Daniel Levy has no intention of cashing in on the club's assets, while being confident the players will not look to leave White Hart Lane should they finish lower than fourth.
"When they came to the club Tottenham weren't in the Champions League and nowhere near getting in," he continued.
"At the end of the day it's down to players. When things are going well we give them all the credit. If we didn't have a bad run we would have qualified for the Champions League.
"They play for Tottenham. They are at a great club. There's no reason why they should suddenly want to leave. Next year we'll hopefully have made the Champions League.
"If we don't then next season we'll try again. That's all you can do. You don't lose your best players all of a sudden. There's not too many better clubs they could go to other than Tottenham. I don't see too many of them wanting to leave.
"You're talking about a couple of exceptional players here in Gareth Bale and Luka Modric. They've both signed long-term contracts.
"Gareth has had a fantastic time for a young player at Tottenham. He needs to stay at Tottenham for a few more years yet. I think he'll keep developing and hopefully go on and play in a Tottenham team that can go on and win the Champions League eventually.
"We've progressed so much in the last four years. We've got to keep that going into the next few years and push on even more in the table and look to win a Premier League.
"The chairman (Levy) runs the football club in terms of finance and everything else. He's not looking to sell the best players. We're not looking to sell. It's a club that we're looking to build. There's no panic."