Harry - League is a lottery
Harry Redknapp believes results are so hard to predict at this stage of the season he is unsure where his Spurs side will finish.
Last Updated: 01/05/12 8:42pm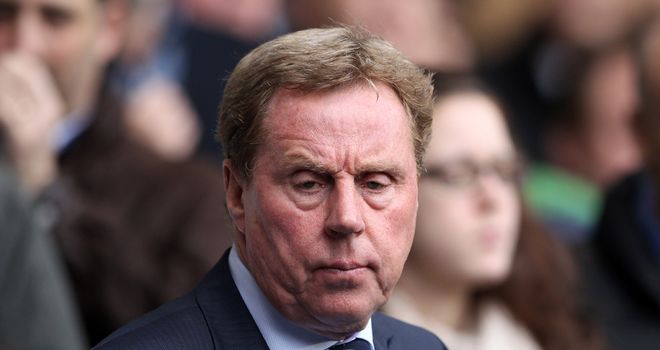 Harry Redknapp believes results are so erratic at this stage of the season that he cannot be sure whether his Tottenham side will miss out on fourth place or snatch third.
Spurs moved back into fourth spot last weekend with victory over Blackburn, but Redknapp is refusing to take anything for granted.
Redknapp takes his side to Bolton on Wednesday hoping to strengthen their grip on a top four finish and a place in next season's UEFA Champions League, but the Spurs chief is not getting carried away.
Unpredictable
"You can't predict results," Redknapp told Spurs TV.
"Manchester United had an eight-point lead after (Manchester) City got beat at Arsenal, you thought that was the end of them, you thought it was all over. You just can't tell.
"You look at Wigan's games and they had no chance (of survival). They had to go to Liverpool, Chelsea, Arsenal, play United, Newcastle, five of the top six, and they go on this incredible run. You just can't predict results.
"You never know. You just have to keep going. That's all we can do. We've two tough away games this week and then a tough home game against Fulham to finish with. That's three hard games.
"Newcastle have three tough games, for sure. Chelsea might have the best fixtures. We have to keep going and if we play well, we can do it (third)."
With Bolton in need of the points in their battle to stay up, Redknapp is expecting a tough challenge at the Reebok Stadium.
"Bolton away is always tough," added Redknapp.
"We've been there enough times over the years and it's always a difficult place to go. They are playing well, Owen (Coyle, manager) has got them going at the moment. It will be a hard game but we've got to go there and be positive."
Form
Spurs picked up just their second win in 10 games against Blackburn, but Redknapp insists that was a false representation of Spurs' performances.
"We're fine. As I said all along, we haven't been playing badly," he added.
"We had one bad performance against Norwich, they played well and we had a bad day. Other than that we've played very well, the results just weren't going our way.
"We beat Swansea, beat Bolton in the FA Cup, drew at Sunderland, beat Blackburn well at home, so we've not been in bad form, we're confident we're playing well."