Bale sparks controversy
Stuart Pearce and Team GB have no plans to complain to FIFA about Gareth Bale's Olympic absence.
Last Updated: 26/07/12 9:22am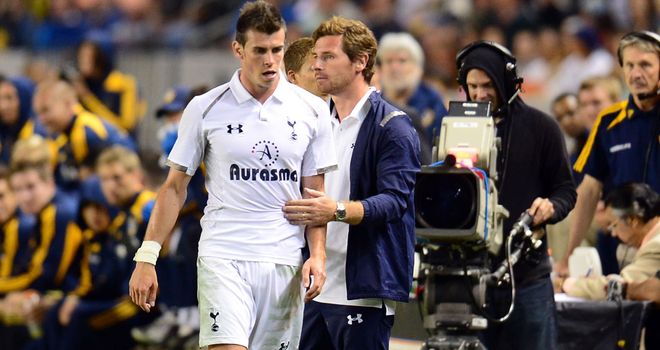 Gareth Bale is 'glad to be back' after making his return from injury for Tottenham - but finds himself at the centre of controversy.
Bale played more than an hour of Spurs' friendly against LA Galaxy on Tuesday evening, opening the scoring in a 1-1 draw.
But the Welsh winger has subsequently been the focus of debate given that he was unavailable for Team GB at this summer's Olympics because of the injury - and the tournament is yet to start.
Even FIFA president Sepp Blatter has waded in by pointing out that Bale could be banned from playing for his club, even in friendly matches, until the completion of the Olympics.
But Sky Sports News understands Stuart Pearce and the football authorities have no interest in pursuing that course of action and Bale was happy to focus on the positive side of his recovery.
He told Tottenham's official website: "After about 65 minutes my calf started to cramp up a bit but it was a good workout. It was one that I needed and it was good to get a goal as well.
"My rehab's gone very well at the club - we are well ahead of schedule.
"I am glad to be back. It's important to get a pre-season under my belt for the season forthcoming so I am just delighted to be back now without any problems."
Progress
Tottenham later echoed Bale's comments when they released a statement confirming the winger had recovered quicker than expected.
"We continue to monitor Gareth Bale's progress after his successful return to action against LA Galaxy on Tuesday," the statement read.
"We initially anticipated that Gareth would return for our friendly against Baltimore on Saturday, but the winger's rehabilitation from a back injury has gone better than expected, having travelled out with dedicated medical personnel.
"Gareth will now continue his recovery programme with the medical team with the target of being fully match fit for the start of the Premier League on August 18."
Blatter had earlier raised the prospect of a suspension as he sought to clarify FIFA's position.
"The principle is that if a club does not release a player then this association can come to FIFA and we will then ban this player during the duration of the Olympics," said Blatter.
"So far nobody came to FIFA to say we should, but it is a possibility we could ban these players if they are not at the disposal of the national team.
"They complain and then we say let this player go or he cannot play for the club.
"FIFA's position has never been so clear than it is now for the Olympics 2012 and 2016."