Jan Vertonghen is loving life in the Premier League and happy he joined Tottenham
Jan Vertonghen thinks Tottenham have an 'amazing team' and is relishing the challenge of playing in the Premier League.
Last Updated: 24/09/12 3:18pm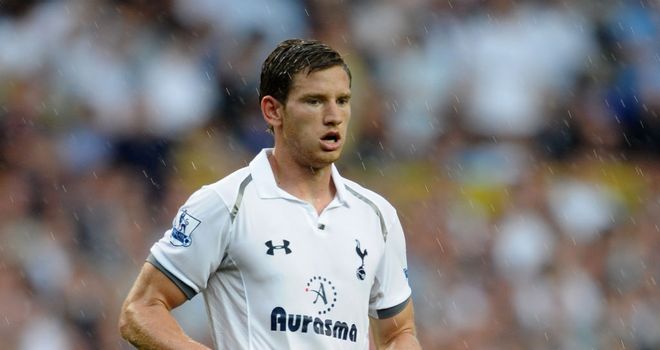 Vertonghen made the move to White Hart Lane from Ajax during the summer transfer window and is happy with how he has settled into his new surroundings.
The Belgium defender produced an impressive performance on Sunday to help Spurs come from behind and beat Queens Park Rangers 2-1, although he admits he would like to be winning more convincingly.
"I love it [in the Premier League], it's a great ambience - it's just a shame that we have to struggle in every game until the last minute," Vertonghen told London 24.
"I think at the end of the year I will need a good vacation! But I love it here, the atmosphere is amazing. These are the best players in the world and we have an amazing team so I'm very happy I made this decision."
Vertonghen and his team-mates left the pitch to a chorus of boos at half-time against QPR, before a tactical switch helped Spurs fight back in the second period.
"I agree that the fans were not happy in the first half," said Vertonghen, who moved from centre-half to left-back after the interval.
"It's just frustrating when you cannot play your own game and I understand the supporters. We want to dominate at home and even in the away games, and I think the supporters can expect that from us. I am very happy we put it right in the second half.
"It was very important [that we won the game]. We played another system, there were a few changes with the players and it was a good tactical decision from the manager.
"I've played at left-back in the national team and if I can help the team I will. I hoped to give an assist [to Gareth Bale] but I'm happy I was involved in the second goal."
Next up is an away game against Manchester United on Saturday, but Vertonghen is adamant that Tottenham can challenge the best teams in the division.
"I played at Old Trafford last year with Ajax and it's an amazing atmosphere," said Vertonghen. "I'm looking forward to my first game with Tottenham against Man United, and I think we're strong enough to do some good things there.
"We've played well away from home, especially against Reading. We have a lot of confidence, especially after getting our first home win.
"Do we still need to get used to playing together? I hope we can play our best game from the start, but of course we need to adapt to each other.
"A lot of players are injured - five or six players who can be in the starting XI - so when everybody's back I think we have one of the strongest teams in the league."