Clint Dempsey was pleased to score his first goal for Tottenham Hotspur
Clint Dempsey was pleased to score his first goal for Spurs after describing the historic win at Man Utd as 'awesome'.
Last Updated: 29/09/12 9:04pm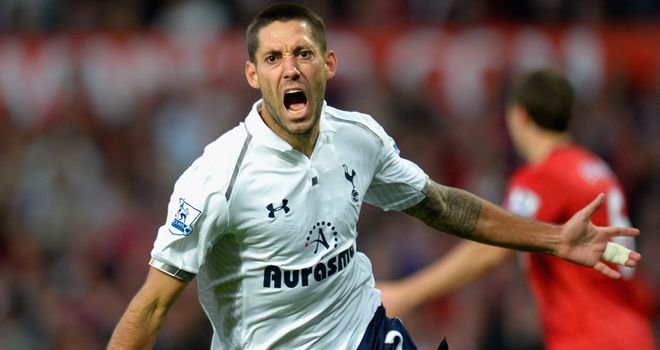 Spurs had not claimed three points at Old Trafford since 1989, but withstood a second-half pummelling to record a third consecutive Premier League triumph.
Jan Vertonghen and Gareth Bale had given Spurs a 2-0 lead before Dempsey struck the decisive goal in between efforts from United duo Nani and Shinji Kagawa.
Dempsey said: "It's awesome, it's always so difficult and it's the first time in so long so we're excited about it.
"It was a rollercoaster, we did well in the first half to go 2-0 up. Then they scored, we answered quickly, they responded again and in the second half it was like chasing shadows.
"But we showed a lot of character, we ground out a result and we got three points."
The American's goal was his first since his drawn-out deadline-day move from Fulham and he said: "I had one called back against Lazio so it was good to open my account and good to get my first win here."