Wales manager Chris Coleman says Gareth Bale is the best British player in the game at the moment
Chris Coleman insists that Wales are not a one man team, but stated that Gareth Bale is the best British player around.
Last Updated: 16/10/12 12:27pm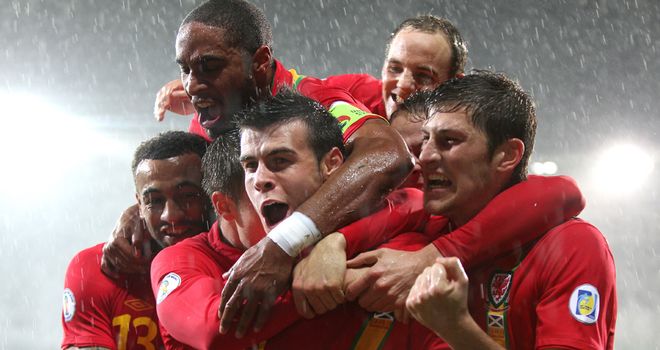 Bale had a superb game against Scotland on Friday as he inspired Wales to a 2-1 win with both goals in Cardiff.
Now Coleman admits that he would not swap Bale for any other British player, saying: "I wouldn't swap him for anyone else, to be fair.
"Anyone can see when he's got the ball he's devastating. He's a terrific player. His work-rate is excellent, he comes away with Wales and plays with passion and incredible ability. You'd be crazy to try and swap him.
"He's scored all our goals [in this campaign] so far and I know people are talking about him. He's a show-stopper and people pay money to come and watch him play -but that performance on Friday wasn't just Baley. He got the goals, but there were some terrific performances.
"We've got options with Gareth. He can be devastating when he plays out wide and cuts inside his full-back. But it's always an option to play him in the centre. We're missing Aaron at the wrong time really.
"Gareth knows where he can hurt the opposition. When you have good players you don't want to pigeon-hole them. Look where he got the winning goal [against Scotland] from - yet he was playing on the right side for us. But when he runs through the middle he can cause other teams problems."
Coleman is hoping his star-turn will get the right protection from the officials when Wales face Croatia in their latest World Cup qualifier on Tuesday.
"Every opposition will work on how they are going to stop him," said Coleman.
"That's how I'd be thinking if I was the opposition. Gareth didn't get the protection he needed against Belgium. There is a flip side that players like Baley can get kicked from pillar to post so you need strong referees.
"When you have a special player like we have in Baley, referees have to be aware that teams will try and stop him by hook or by crook."