Tottenham striker Emmanuel Adebayor sorry for red card against Arsenal
Tottenham Hotspur striker Emmanuel Adebayor has apologised for his red card against former club Arsenal on Saturday.
Last Updated: 18/11/12 5:43pm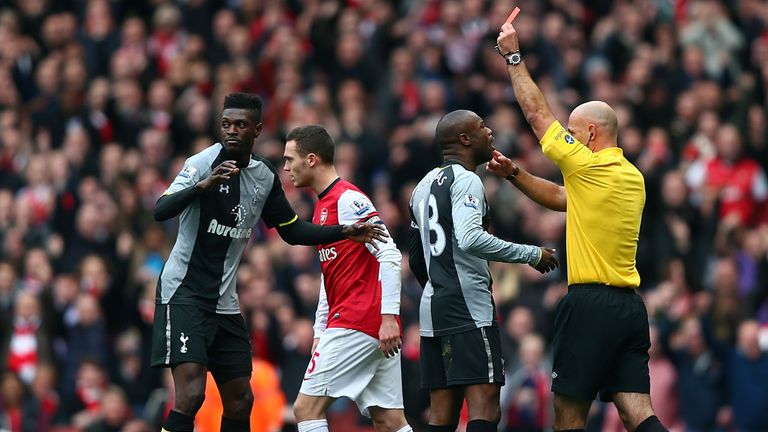 Adebayor had given Spurs a dream start at Emirates Stadium by scoring the opening goal after 10 minutes, but he was sent off just eight minutes later for a lunging tackle on Cazorla.
Spurs went on to lose the North London derby 5-2 and Adebayor has accepted he let everyone down by being dismissed.
"I completely understand my sending off changed the entire outcome of the game and I whole-heartedly apologise to my team-mates, the manager and all the Tottenham fans for letting them down," Adebayor told The Sun.
"But I must stress that my challenge was not malicious in any way whatsoever.
"I was genuinely trying to win the ball and probably stretched my foot out a bit too far in the heat of the moment.
"Nobody could have felt more devastated than me as I walked off the pitch.
"I so much wanted to help Tottenham win and thought for a moment that I'd actually set that win up when I scored, but football changes so quickly.
"One minute a hero, the next a villain."