Emmanuel Adebayor warns Tottenham to improve quickly or forget this season
Emmanuel Adebayor fears Tottenham's season is on the brink of collapse following a run of one win in six games.
Last Updated: 23/11/12 2:57pm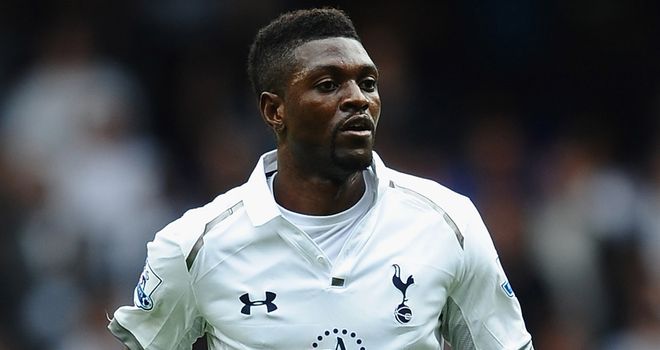 Spurs' only recent success came against Slovenia's Maribor in the Europa League, and they host West Ham on Sunday on the back of three successive Premier League defeats.
Adebayor kept his place for Thursday's draw at Lazio despite his costly red card at Arsenal, but that was just his fourth start under Andre Villas-Boas and the striker's personal fortunes are mirroring Tottenham's.
He said: "We're all frustrated about the way things are going. I don't know what's not clicking. Hopefully it will start clicking as soon as possible otherwise, trust me, we will find ourselves in difficulty.
"My friends tell me to keep positive so I don't really want to think about how bad it could be. If we get badder than this, I think we'd be dead.
"At the moment things are looking bad, but we just have to find a way to get through this. We have to improve because we're not playing the best game at the moment."
Adebayor signed a four-year deal with Spurs in the summer and remains committed to the club despite playing second fiddle to Jermain Defoe for most of this term.
He said: "It's looking like one of the bad seasons I'm going to have, but I'm just going to have to turn things around, keep doing my thing.
"I worked hard to sign for the club so I cannot see myself moving now, but if the club want me out, I don't have a choice."