Clint Dempsey feels his form is slowly improving at Tottenham
Clint Dempsey admits to enduring a frustrating start to life at Tottenham, but feels his form is steadily improving.
Last Updated: 26/11/12 12:55pm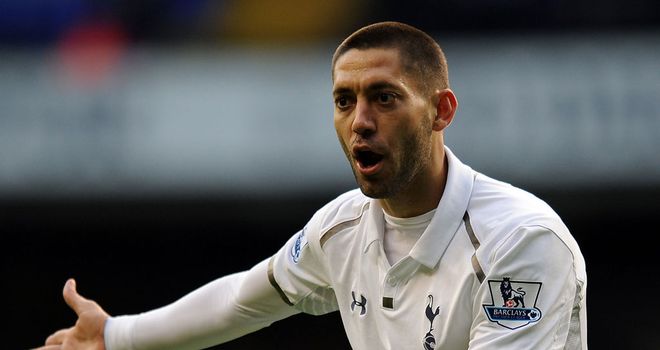 Spurs snapped Dempsey up over the summer after seeing him net 23 times for Fulham last season, with his performances drawing plenty of praise.
The USA international has struggled to produce those heroics at White Hart Lane, though, with the target found just twice in 17 outings.
Dempsey was, however, able to put in a lively display in a 3-1 victory over West Ham United on Sunday and believes he is starting to find his feet in a central playmaking role.
He told London 24: "I've been frustrated with not really getting on the ball, getting into the game and impacting games. I was able to give a bit more of an angle and drive with the ball a little bit more, and take some more shots and try to create chances for other people.
"It's good to play a part in two of the goals and I was a little bit unlucky not to get one myself, hitting the bar.
"It was a game I enjoyed because I'm a player that needs to get on the ball. I'm better getting it on the half-turn and then facing my opponents, rather than always playing with my back to goal.
"I thought I did a better job of getting on the angles where I could get on the turn and drive forward."
Adjustment
Dempsey added: "I'm traditionally used to playing in a 4-4-2 system when I'm the guy on the left, but I'm not really an out-and-out winger. I'm someone who comes inside and I'm more like an attacking inside-left player.
"Being more central is good because you're in a position where you see more of the ball, but it's about getting on the ball and making the movements that's going to allow you to do that. I'm starting to do a better job in that respect.
"It's just about learning how to play with this team. Every team is different and there's a period of adjustment.
"I didn't have a pre-season with them, or anybody, so I'm trying to play catch-up a little bit and trying to adjust to this team and the style that they play."