Luka Modric calls for Gareth Bale to swap Tottenham for Real Madrid
Luka Modric says Gareth Bale should join him at Real Madrid to form an 'unstoppable' partnership with Cristiano Ronaldo.
Last Updated: 30/11/12 12:29pm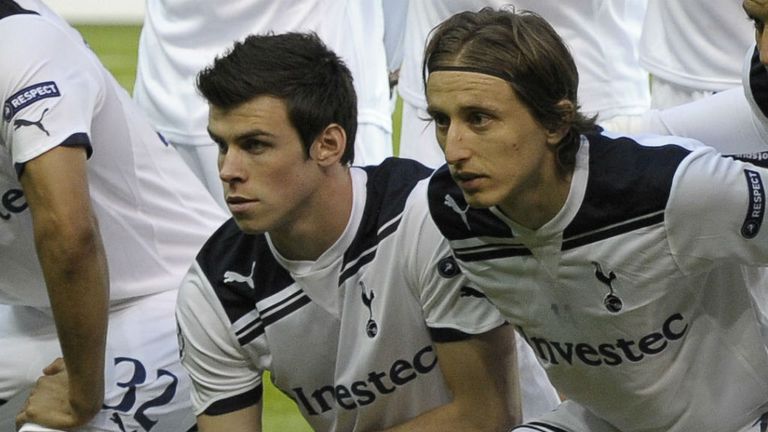 Former Tottenham midfielder Modric moved to the Bernabeu at the start of the season, and he wants current Spurs star Bale to join him in the Spanish capital.
The 23-year-old Welshman scored in Tottenham's 2-1 win on Wednesday that lifted them into fifth in the table, but Modric says Bale dreams of winning the Champions League - something he can achieve if he moves to Madrid.
"We used to talk and I know he wants to play Champions League football every season and has a big dream of winning the Champions League," Modric said.
"Madrid would be a great club for him to achieve his dreams. I play with Ronaldo here at Madrid and the way he just runs with the ball with such confidence and defenders back off him is exactly the same as Gareth.
"To have them both in the same team would be unstoppable."
Bale signed a new four-year deal at Spurs in the summer but, as Modric himself proved, a player will eventually get his way if he wants to leave a club - and he says Spurs must become Champions League regulars to keep hold of their star man.
"Of course Spurs want to keep Bale - he is loved by the fans and it is easy to see why," Modric added. "But they must make Champions League football this season if he is to stay.
"If he decides to leave Spurs then every top club in Europe will want him. He is an intelligent guy and is open to new experiences. I know he sees the value in playing abroad, so when the time comes he will have a big decision to make.
"There is not a club in the world that would not want Gareth in their team. The way he plays scares defenders - and when he is in full flow there is no stopping him.
"It is not just that he has pace but he has the goals and creates goals to go with it. Already he is one of the best players in the world and he will only get better. There are some great players in the Premier League but for me Gareth is now the best and most dangerous."