Ryan Giggs says fellow Welshman Gareth Bale has a bright future ahead of him
Ryan Giggs praises Gareth Bale ahead of Sunday's clash with Tottenham and says he has high hopes for him.
Last Updated: 20/01/13 3:28pm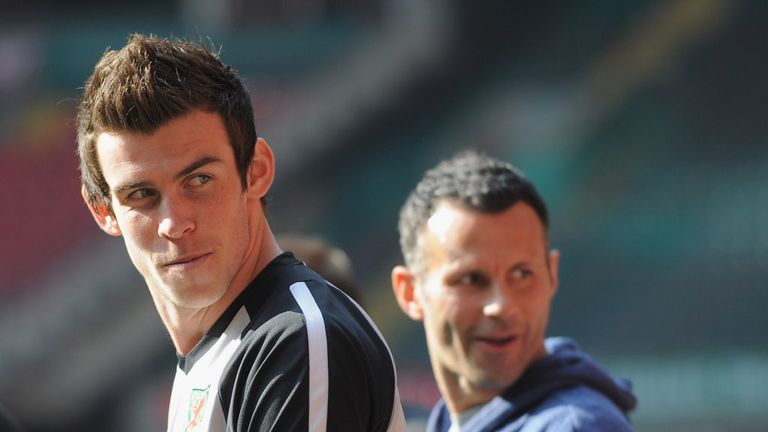 Bale was on the scoresheet when Spurs shocked United with a 3-2 win last September, and while Giggs makes it clear he hopes the 23-year-old midfielder has an "off-day" on Sunday, he showers praise on the Tottenham midfielder.
"Gareth is brilliant," Giggs said.
"He has so much to his game and over the last season or so he has improved a lot.
"He is not just a left winger. He can play in various positions.
"I have seen him play up front for Wales. I have seen him play off the front and on the right.
"He is such an exciting player, but more than that, he has a good attitude as well.
"He can go far in the game. And whilst I hope he has an off-day this weekend, as a fellow Welshman I hope it is to the very top."
Commenting on the five-goal thriller at Old Trafford earlier in the season, the United midfielder added: "We didn't perform in the first half that day.
"In the second Tottenham did not get out of their half and we should have got something out of the game.
"But when they have that kind of talent, you can't take anything for granted. You have to be at your best, which we definitely weren't in that first half earlier in the season."
United have dropped just five points since that defeat, adding Chelsea and Manchester City to their list of notable away victories.
"When you have a seven-point advantage you just have to look after yourself and the rest will take care of itself," said Giggs.
"People spoke so much about us playing first last weekend, this time it is roles reversed.
"But we are not thinking about that. We are just thinking about a tough game at White Hart Lane against a very good Tottenham side who have already beaten us this year.
"We know what we are up against. We know that it is going to be hard. But games with Tottenham are always brilliant to be involved in.
"Hopefully we can get the right result."