Gary Neville and Jamie Redknapp discuss Tottenham's late equaliser against Manchester United
Gary Neville says that Manchester United will be highly disappointed with their 1-1 draw with Spurs.
Last Updated: 21/01/13 8:45am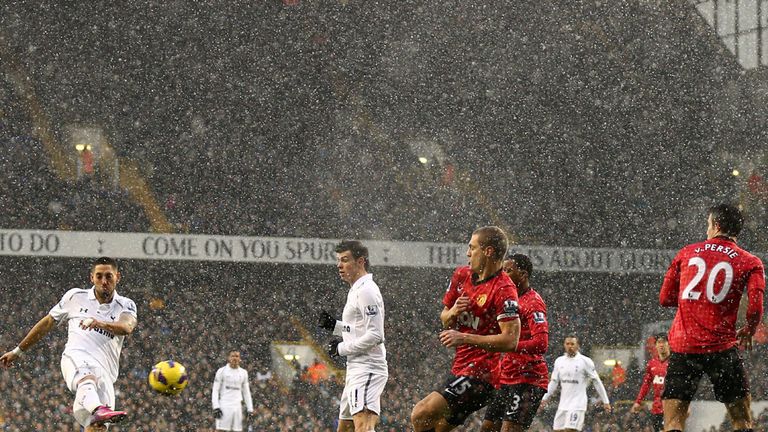 Despite Tottenham having plenty of possession, it looked like the Premiership leaders would extend their lead at the top, however a Clint Dempsey goal in the final minute of extra-time gave Tottenham the draw.
"I think that will be the most painful result United have had all season," said Gary Neville on Sky Sports.
"They were one minute from coming off thinking they had played the perfect game plan. Ferdinand, Vidic, Jones and Carrik were absolutely magnificent - the best I have seen that four perform for Manchester United all season.
"Tottenham had a lot of possession in the second half and they had to show a lot of resilience. It looked like a perfect away performance but then that killer at the end.
"From a United perspective De Gea has had a fantastic day today. But you cannot do that. Those are big moment, you talk about the biggest games - you do everything right but that punch has cost his team. It's not easy to play in goal but he has got to punch that high and clear - Schmeichel, van der Sar, he has got to get to their level."
"United should have also been better on the counter-attack, they should have been more incisive and more clinical. However it did look like a real proper away performance from United."
Praise for Spurs
Jamie Redknapp believes that Tottenham deserved to get something out of this match and had praise for their manager Andre Villas-Boas
"I think it would have been a travesty if Spurs did not get something out of this game with the possession and the chances they had. With Lennon and Dempsey you always thought something might happen.
"You have got to give Villas-Boas some credit too for making that substitution. They were lacking a bit of balance down that left hand side. With Naughton being predominantly a right footed player, he wants to come inside all the time and shift the ball onto his right hand side and cross it that way. You lose a bit of momentum with that. But with Assou-Ekotto, as soon as that ball fell to him there was no messing around he got it into the box.
"I think it was something that Spurs had to do - they had lost their buzz and Bale was not getting into the game. When Assou-Ekotto came on you could sense there was a bit more pace in attack and the goal came from that."
Dempsey thought he had scored when he was through on goal in the 51st minute but Neville and Redknapp have different opinions on it.
"I thought he should have gone down with the challenge from Patrice Evra," said Neville.
"He gets a penalty, maybe a sending off. I am not saying it is right and by staying up he has done the right thing and perhaps he was rewarded with his late goal. I am just saying that he could have changed the whole outcome of the second half."
"Why on earth would you want to go down?" counters Redknapp. "You are going clean through there - he is a goal scorer, why would he want to go down? I think you have got to look at that as an opportunity"