Benoit Assou-Ekotto not worried about Kyle Naughton threatening his Tottenham place
Benoit Assou-Ekotto does not believe Kyle Naughton poses a threat to his status as Tottenham's first-choice left-back.
Last Updated: 22/01/13 3:18pm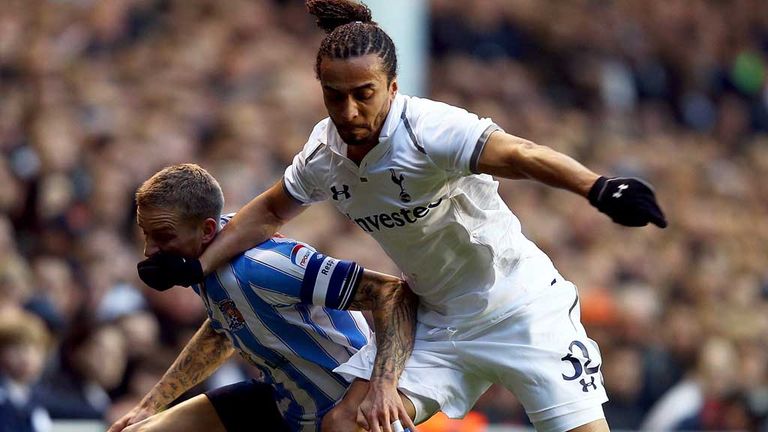 Assou-Ekotto has made the position his own at White Hart Lane in recent years but has had to sit out for the past few months with a knee problem and watch the likes of Naughton and Jan Vertonghen fill in.
Naughton, who normally operates at right-back, has impressed during Assou-Ekotto's absence, but the Cameroonian thinks he is better suited to the role.
"He's not a real left-back and I don't think he has the same left foot as me, so I'm not worried about that," said Assou-Ekotto, who came on for Naughton in Sunday's 1-1 draw with Manchester United.
"I'm not worried because obviously I can do stuff with my left foot that he can't do."
Assou-Ekotto made an important contribution against United as he delivered the cross that eventually led to Clint Dempsey's dramatic 93rd-minute equaliser.
"To come back in the Premier League is quite hard because it's high-tempo, but sometimes it's easier to play against Manchester United than against a team in the bottom half," said the 28-year-old.
"I think it was a good game to come back in. My cross was OK."
Spurs now sit fourth in the table, seven points ahead of their local rivals Arsenal, after a seven-game unbeaten run.
Arsenal managed to overturn a 10-point deficit last term, but Assou-Ekotto insists the only way Spurs will get UEFA Champions League football next season is if they focus on themselves.
"I don't care, and I think we shouldn't care about the other teams," he said.
"We have to be focused only on ourselves, and have a target not to lose any games. The point against United might be important at the end of the season."