Tottenham winger Gareth Bale keen to emulate Cristiano Ronaldo
Tottenham's Gareth Bale has set his sights on matching the success of Real Madrid superstar Cristiano Ronaldo.
Last Updated: 01/02/13 9:08am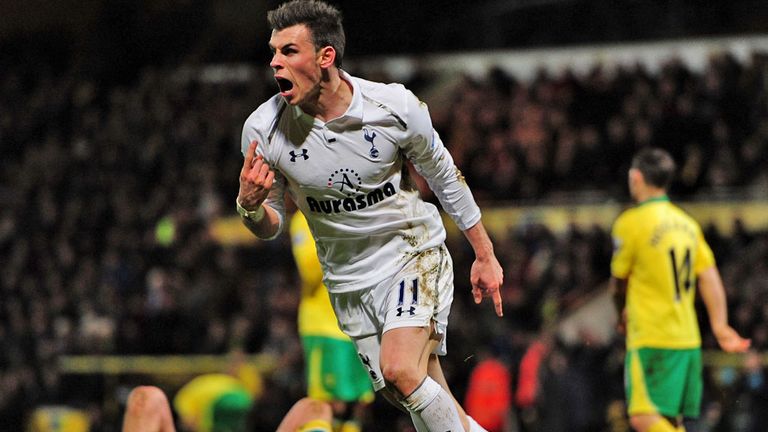 Welsh winger Bale, who scored a stunning equaliser against Norwich City on Wednesday, admits he is flattered by comparisons to the Portuguese player.
They are both renowned for their dribbling ability but Bale recognises that Ronaldo is in a different league to anyone apart from Lionel Messi and is working hard to improve his own game.
"The way he plays I think he is the best all-round player in the world," Bale said of Ronaldo.
"People have said things in the past [that] the stuff he does is similar in a way to what I do. All I can do is keep playing my football. He is right up there and a benchmark for every player who wants to be as good as him.
"The free-kick technique works for him and he scores a lot of goals and big goals. He is obviously doing something right and it's good to look at other players, how they do things and take my game to another level.
"You set your sights [on playing like him] - he is on a different planet apart from Messi. He is one of those players that everyone aspires to and I'd love to be half as good as him."
Bale was pleased with Tottenham's response at Norwich as his 15th goal of the season rescued a point for Andre Villas-Boas' side after a disappointing first half.
"It felt good when I was running through," Bale said about his goal. "I had a lot of space to run into which I like and it was a good goal.
"The important thing was it got us back into the game near the end and we were unlucky not to get three points."
Bale added: "They are difficult grounds to go to, playing against teams fighting against relegation and the manager told us at half-time we weren't good enough.
"We came out in the second half and played some great stuff and turned up a few gears, showed what we're capable of and we were unlucky not to win."