Gareth Bale future may depend on Spurs' Champions League qualification, says AVB
Andre Villas-Boas admits Tottenham are fortunate to have Gareth Bale and his future could depend on a top-four finish.
Last Updated: 08/02/13 9:15am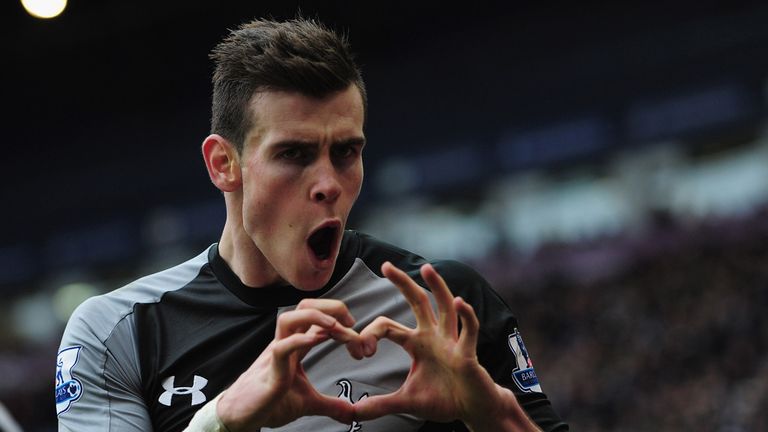 Bale has been in fantastic form this season, scoring 17 goals for club and country and raising speculation regarding a move to Real Madrid in the summer.
Spurs boss Villas-Boas acknowledges that the interest is inevitable but argues that Champions League qualification will impact on the 23-year-old's future.
"Players who are performing at this level always get the attention," said Villas-Boas, quoted in The Guardian.
"It doesn't mean that the club doesn't foresee a future with Gareth. It's intimately related to the objectives that we achieve for the season.
"Hopefully, we can do just that with the Champions League and continue to progress on what we are doing.
"It's difficult for us to have a player of this dimension playing so well, calling the attention of other teams but it's also difficult for other teams, with the economic situation as it is, to buy a player of this dimension.
"At the moment, we are very, very fortunate to have him."
He added: "I think we can reach our objectives with him at this level and if we reach our objectives, we can hopefully continue to have Gareth in our club.
"He's a player we rate very, very highly and aren't willing to let go.
"The Champions League is where most of the clubs want to be, and where most of the players want to play.
"It's part of our objectives so hopefully achieving it means we can attract better players and continue to hold on to our best players."
Villas-Boas has recently deployed the Welshman in a more central role, either as a No 10 in the hole or as an out-and-out striker, drawing comparisons with Real Madrid star Ronaldo.
Having started on the flanks, Ronaldo now operates as a centre-forward and Villas-Boas thinks all the signs are pointing towards the idea that Bale could end up doing the same.
"You can see similarities in each of the players," said the Spurs manager.
"Both of them are extremely technical players, and extremely powerful and pacy.
"It's funny to see how both players compare. They grew up as strikers, but became wingers.
"Ronaldo is now 28, and has achieved so much in his career. He is an example to Gareth as to what he can achieve."
Bale may be joined up front against Newcastle on Saturday by Emmanuel Adebayor.
Adebayor has been on Togo duty at the African Nations Cup for almost a month but despite a striker shortage, Tottenham say they are happy for the 28-year-old to return to training on Friday afternoon - less than 24 hours before the game against the Magpies.
Villas-Boas was reluctant to comment on Adebayor's whereabouts on Thursday. He would only say that the striker was "in Africa" to "take care" of some "issues".
Given that Jermain Defoe is out for up to three weeks with an ankle injury, the Spurs boss is hopeful that the Togolese will be passed fit.
"It's not a big ask for him to play on Saturday," the 35-year-old said.
"He is in good form and you have to allow the player to rest and recover. If he is ready physically we will select him.
"It's always difficult with the trips from extreme heat to cold. He will not be 100 per cent, but he's still a player that can make a difference."
You can only watch the best Barclays Premier League coverage here on Sky Sports. Watch Spurs v Newcastle exclusively live on Sky Sports 2HD, 3D and Sky Go from 12noon on Saturday 9th February. Click here for more details