Hugo Lloris confident Tottenham can break into Premier League top three
Hugo Lloris believes Tottenham have the ability to challenge for a place in the top three of the Premier League.
Last Updated: 12/02/13 12:23pm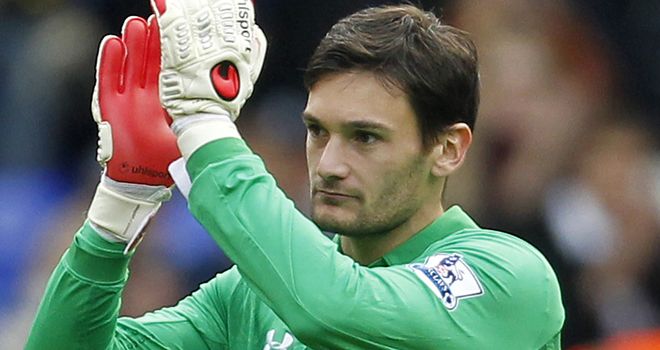 Spurs are currently fourth in the table, just a point behind Chelsea, although they trail runaway leaders Manchester United by 17 points with 12 games remaining.
But goalkeeper Lloris believes his side are closing in on the likes of United, Manchester City and Chelsea, although he is also wary of slipping up in the race for fourth place this season.
"Today, there's United, City and Chelsea who are a cut above, and who have more financial means. But Tottenham is just behind," said Lloris, who joined Spurs from Thursday's opponents Lyon last summer.
"The club has been trying to establish itself in the top four for some years now.
"For the minute, the season has been promising, but the hardest part is yet to come because there are still a number of key matches to be played and we'll have to be ready for that.
"For the moment, we're well-placed, though we're not beyond a possible charge by Arsenal."
Lloris had to be patient after initially making the move to England due to Andre Villas-Boas keeping faith with Brad Friedel.
Now established as the first-choice goalkeeper at Spurs, Lloris reckons the experience of challenging Friedel for the position has made him stronger.
"Things were very clear, that I was coming to Tottenham as the number one," he told RTL.
"But the manager made a decision at the start, and then made a different one a few weeks later. The negotiations over the move were with the chairman, but it was also the choice of the coach. I also had talks with him during that time.
"It's not easy, because I came in after the start of the season, and he was already under pressure because the results were not good at that point in time. It's the sort of situation which helps you grow, it's a personal challenge."
To find out more about live football on Sky Sports, Click here