Andre Villas-Boas glad to keep Michael Dawson at Tottenham
Andre Villas-Boas says Tottenham are fortunate that Michael Dawson rejected a move to QPR at the start of the season.
Last Updated: 14/02/13 8:27am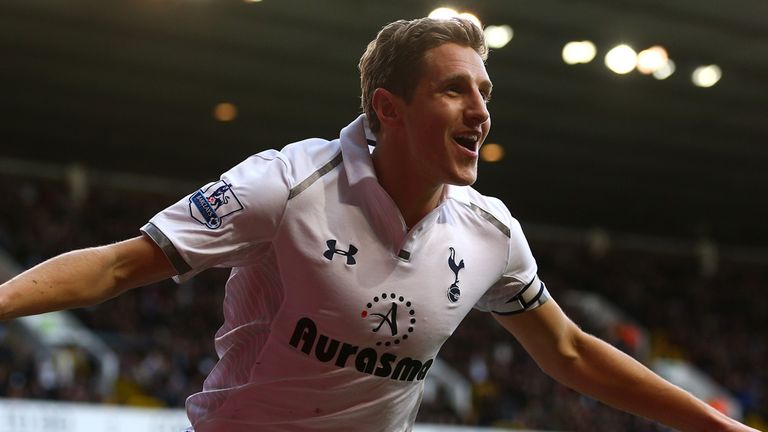 To the surprise of many, Villas-Boas allowed the 29-year-old club captain to discuss terms with Rangers after accepting a £9m-bid from their London rivals.
But Dawson turned down the move in order to fight for a place in Villas-Boas' starting XI.
It is a battle Dawson has recently won, much to Spurs' benefit, with the England player impressing at the heart of their defence in the last seven Premier League games.
He is likely to start Thursday's Europa League last-32 first-leg against French side Lyon at White Hart Lane.
When asked if he had made a mistake in trying to sell Dawson, Villas-Boas said: "Yes. I think we appreciate the fact we were able to hang on to him.
"We ended up being on the better side by the fact he agreed to stay with us. We were lucky in that sense."
However, Villas-Boas has revealed that he will be looking to lose a centre-back this summer.
With Dawson having proved himself, Jan Verthonghen and Younes Kaboul still in their prime and Steven Caulker viewed as a prospect for the future, the most likely candidate to leave the club is 35-year-old William Gallas, who is out of contract in the summer.
"We won't start another season with five centre-backs," Villas-Boas said. "It's a difficult one. We have five top central defenders at the moment - a mixture of young players coming through with lots of experience, and then you have such tremendous central defenders as William, Dawson and Younes Kaboul.
"William has been a massive player for us this season. He's a player we trust a lot. Whatever we decide regarding his future, we'll have to wait and see, but we are aware of what a presence he's been for us this season."
When asked if would like to remain at the club next season, Gallas said: "I don't know. I don't think about it."
The Frenchman does believe, though, that Spurs have a bright future ahead of them.
"If you compare this season to last season, we are in a better position. The players have the right mentality. They want to win every game. If we draw games some of them can be very upset.
"Slowly, Tottenham will become very big and next season they will win something."