Spurs fans taken to hospital after attack in Lyon
Three Tottenham suffered minor injuries after being attacked by a masked gang in a bar in Lyon.
Last Updated: 21/02/13 1:52pm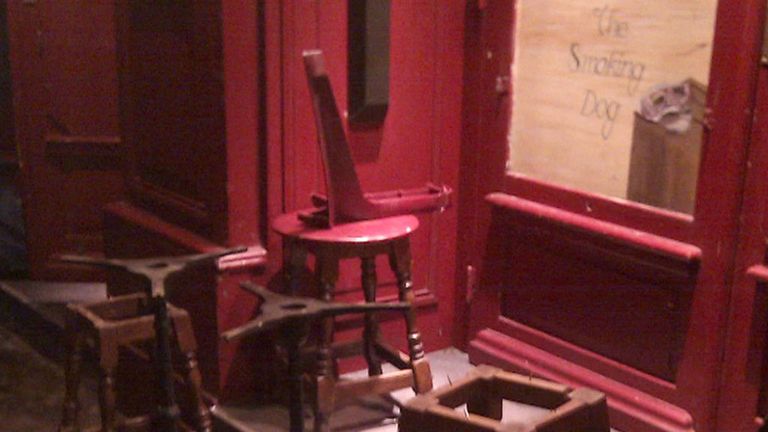 Eyewitnesses said the attackers smashed doors and threw cast iron chairs and a flare in to the Smoking Dog pub in Lyon, where up to 150 Spurs fans were drinking.
It is the second time that Tottenham fans have been targeted in the last three months after they were ambushed inside a pub in Rome on the eve of their game against Lazio.
A Tottenham spokesman said: "Club officials attended an incident last night in Lyon. A group of around 50 people confronted fans.
"The situation was dealt with and arrests were made within the hour. Three fans sustained minor injuries and received prompt medical assistance.
"Spurs officials and stewards will be in the city throughout the day, along with matchday French police ahead of kick-off."
Dave Eales, landlord of the pub, said: "At 10.18 the pub was rammed with Tottenham fans watching the Champions League on the television. The front of the pub, which is made up of reinforced glass, was attacked by 20-25 people.
"They threw projectiles through the windows. There was a stand-off. They didn't get in to the bar. Then it calmed down. Then they came back a second time and it all started again.
"There were three injured Tottenham fans taken away by ambulance. One of them had a head injury. I'm not sure how bad it was."
Spurs fan and journalist Aidan Radnege, who was in the bar at the time of the attack, said: "They came in making Nazi salutes. It was frightening. Rome was fresh in everyone's minds. Everyone realised this was serious."
Tottenham fan James Taylor added: "It was pre-meditated, pre-arranged. It was nothing to do with Spurs fans."