Emmanuel Adebayor is hoping to help Tottenham finish above Arsenal this season
Emmanuel Adebayor is hoping to pile more misery on Arsenal by helping Tottenham to finish above them this season
Last Updated: 23/02/13 3:06pm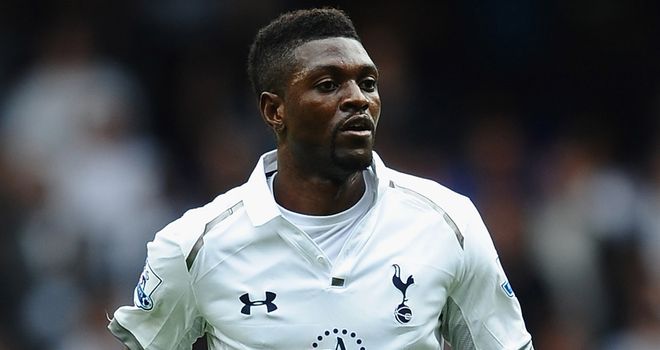 The Togo striker left Arsenal in 2009 for Manchester City and after a successful spell on loan at Tottenham last season made his switch permanent to White Hart Lane last summer.
Tottenham lock horns with Arsenal next week and Adebayor is determined to help his side maintain their four-point lead over their north London rivals in the race to finish in the top four and claim a UEFA Champions League spot.
"For me, it's a big opportunity to show people I was right to leave Arsenal, which means finishing on top of them," Adebayor told The Sun.
"If that's with Tottenham then it's even better. Everybody knows there is a big rivalry between Arsenal and Tottenham.
"When I was at Arsenal, my job was to score goals for them. Now I'm at Tottenham and I have to help the team finish in the top four.
"We have a big chance this season to finish on top of them and we have to take it."
Meanwhile, Adebayor has explained the reasons behind his late return from the Africa Cup of Nations last month.
Adebayor has come under fire for his late return, but the 28-year-old insists he was not to blame for the hold-up
"I read about (criticism), but, I was just trying to help my team-mates in the national team," added Adebayor
"We went out on the Sunday, then we tried to find a plane to go to Togo to see the family and the president.
"It took us four days to get a plane. On Thursday I had to call the president (Faure Gnassingbe) to tell him we had to leave South Africa.
"He told us to get to the airport at 4pm. We did, and we ended up staying at the airport for more than 10, 12 hours.
"That's not my fault, I couldn't do anything. I can't just put something on my body and fly from South Africa to London.
"I couldn't just abandon my team. We went to the quarter-finals of African Nations Cup, which was historical for my country.
"I could not just jump on a plane and come back to Tottenham, because the president of the country wanted to see us and congratulate us.
"I am the captain so I have to be there. So that's what I did. Then I got the flight the club sent to me."