Tottenham boss backs Gareth Bale to cause Inter huge problems once again
Andre Villas-Boas thinks Gareth Bale is now an even better player than when he tore Inter Milan apart in 2010.
Last Updated: 07/03/13 7:13pm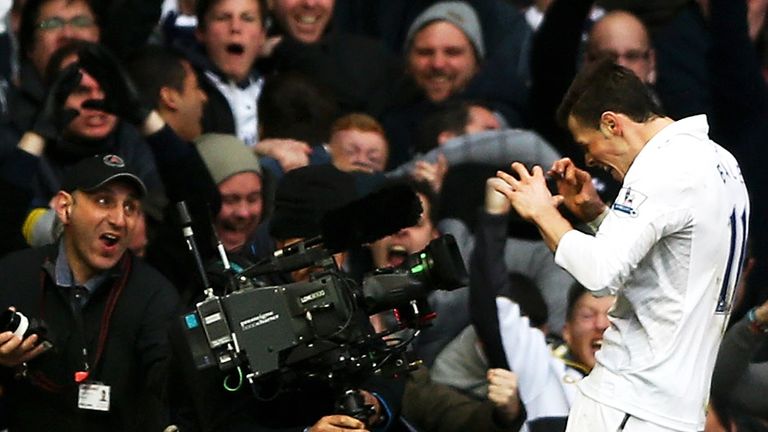 The London side will meet the Italian giants in a Europa League last-16 first leg tie at White Hart Lane on Thursday night, and the match-up evokes memories of when the two clubs met in the group stages of the Champions League three years ago.
Bale first stunned the San Siro when he scored a brilliant hat-trick in a 4-3 loss, and then went on to dominate highly-regarded Brazilian right-back Maicon when Spurs won the reverse fixture 3-1.
The Welshman has already scored 20 goals this season for the north London side and Villas-Boas is hopeful his memorable campaign will continue against Inter.
"I think Gareth has evolved as player," said the Spurs boss. "He is even more threatening now.
"I remember seeing the highlights of Inter - Tottenham, and how Tottenham came back into the game late on.
"Maicon was an outstanding right-back, one of the Brazilian right-backs, so to see a young player like Gareth play like he did against him demonstrates his talent.
"Now, two years on, he plays in a different position. He's become a different player, a bigger player, and a more complete player.
"He's the kind of player who can determine the outcome of a game, as we've seen in recent matches."
Villas-Boas spent 18 months at the San Siro himself, operating as Inter's head scout under Jose Mourinho, before he decided to go it alone after being offered the manager's position at Academica de Coimbra.
"It was a difficult moment of my professional life (to leave Inter)," he said. "At that time I was scouting for Jose and I wanted to be a little bit more involved with first-team training.
"Jose had always seen me doing the job I was doing. It was a difficult step to take, but it was probably the right one."
Villas-Boas confirmed that striker Emmanuel Adebayor has only a slim chance of playing against Inter, due to a knee injury he suffered in Sunday's north London derby win.
Villas-Boas is likely rotate his goalkeepers again, with Hugo Lloris making way for Brad Friedel.