Tottenham star Gareth Bale can't hide his admiration for Barcelona, Real Madrid or Bayern Munich
Tottenham star Gareth Bale cannot hide his admiration for Barcelona, Real Madrid or Bayern Munich.
By Razwan Mirza - Tweet me: @RazMirza
Last Updated: 10/03/13 5:05pm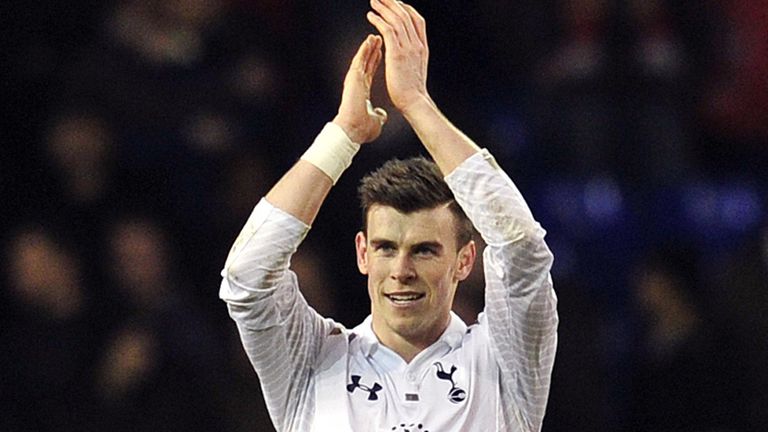 The Welsh winger has been in impressive form scoring 10 goals in his last eight games for the White Hart Lane club and is one of the favourites to land the Player of the Year award.
His stellar performances for the North Londoners at home and abroad have caught the attention of Europe's biggest clubs.
And although the likes of big spenders Paris Saint-Germain and Manchester City have indicated an interest in him, Bale says those clubs are not in the same league as the big three.
"Yes, PSG is a great team," he told French TV show Telefoot. "They brought great players last summer, even in January. This is a club to follow in the future, a bit like Manchester City. (But) they are still not at the level of great clubs. Not like Bayern, Real or Barcelona.
"I have grown up as a person and I hope to keep improving year after year.
"(Ryan) Giggs is the hero of my childhood. I watched him play as a kid. But today, (Cristiano) Ronaldo and (Lionel) Messi are the players to watch."
Meanwhile, former Spurs director Damien Comolli believes the 23-year-old will remain at the club for the time being.
"I think that if PSG is aware that the player is on the market, I won't be surprised that they do everything in their power to sign him," he told Telefoot.
"But today, there is a 90 per cent chance that he will stay at Spurs. I know the president (chairman) of Spurs and how he works. Only three or four clubs can afford (Bale) right now."