Emmanuel Adebayor urges Tottenham to exploit Manchester City 'disunity'
Emmanuel Adebayor has stoked tension ahead of the clash with Manchester City by questioning the unity at his old club.
Last Updated: 21/04/13 1:20pm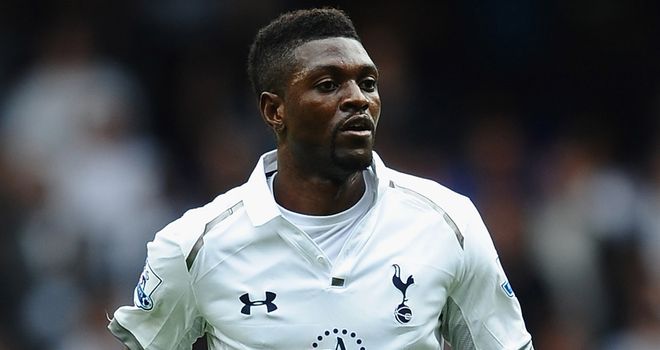 City have a chance to put a huge dent in Tottenham's Champions League ambitions on Sunday when they travel to White Hart Lane.
Adebayor had a tumultuous three-year spell at the Etihad Stadium, rowing with manager Roberto Mancini and fighting with defender Kolo Toure before leaving for Spurs two years ago.
But he believes Mancini's high-profile spats involving Mario Balotelli and Carlos Tevez prove a fractious atmosphere remains - and urged his team-mates to take advantage.
"If we put them under pressure we have a chance to win for sure," Adebayor said.
"I was there and whenever things are not going their way there will definitely be a fight or an argument on the pitch and that is how we can take them down.
"I don't have anything to prove to Man City.
"Man City is a sacred club. I have a huge respect for the players because I've got players there that I can call family - people like Yaya Toure, Kolo Toure, and Vincent Kompany.
"They are very good friends so for me. It's going to be important for me to prove how good I am, but I don't have any pressure that says I have to beat Man City because of the way they treated me - because they bought me expensively and sold me for cheap.
"We are all human beings. We are all adults. I cannot tell you what happen and what did not happen. For me today I move on, (Mancini) has moved on. He is Man City, I am Tottenham.
"I wish him the best of luck. For me now Mancini is just a manager I respect just like Arsene Wenger, like Harry Redknapp, and that's it."