Michael Dawson and Emmanuel Adebayor say Spurs will fight for Champions League spot
Michael Dawson and Emmanuel Adebayor will continue fighting for the top four after Tottenham drew 2-2 at Chelsea.
Last Updated: 08/05/13 10:36pm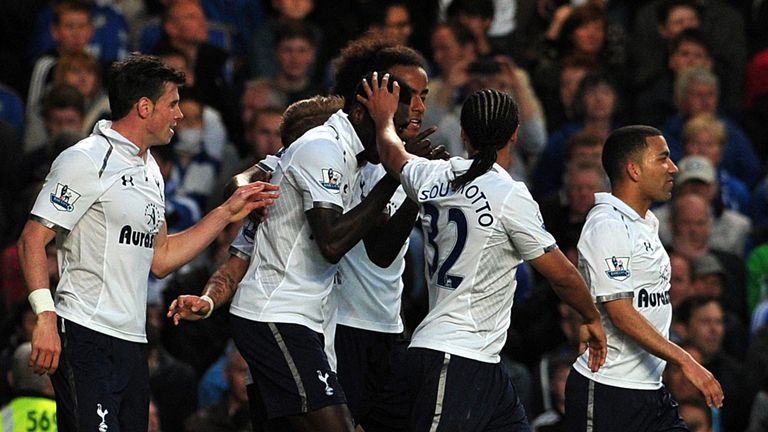 Spurs twice came from behind to earn a point at Stamford Bridge, but a top-four finish is now out of their hands.
Chelsea hold a three-point advantage with two games left to play, while north London rivals Arsenal are a point ahead of Spurs in fourth position.
Adebayor, who cancelled out Oscar's early goal with a tremendous finish, is now focusing on winning the last two fixtures, starting with Sunday's trip to Stoke City.
"We came here for three points and we didn't get it," Adebayor told Sky Sports 1.
"Now, we have to keep going. We have two more games and if we win those two we have the chance to be in the Champions League.
"We take one point. We have no regrets. We will go home and recover for the next game."
Dawson praised Spurs' spirit in battling back for a point, which was secured by Gylfi Sigurdsson's 80th minute equaliser, and is adamant the club will not give up in the quest for Champions League football.
The defender said: "It was a tough battle. We gave ourselves a mountain to climb by giving away a goal so early, but Ade's got us back in it with a great finish.
"They went ahead again, but we showed fighting spirit, and kept going and going, then Gylfi's got a great finish. We nearly went on to nick it. They had a few chances, but we showed some spirit.
"It keeps it going. It's out of our hands again if Arsenal win their two games, but we'll keep fighting.
"We've got Stoke at the weekend and hopefully we'll get back to winning ways."