Transfer news: Luka Modric says Gareth Bale 'perfect' for Real Madrid
Luka Modric believes Gareth Bale would 'fit perfectly' at Real Madrid were he to follow him from Tottenham to Spain.
Last Updated: 14/06/13 2:26pm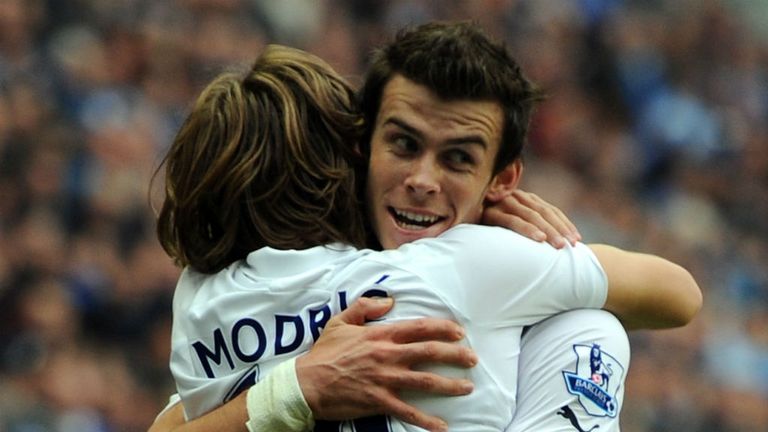 Modric left White Hart Lane for Santiago Bernabeu last summer, with the Croatian playmaker pushing for a switch as deadline day loomed.
There is a possibility that path will be trodden again in 2013, with Real making no secret of their admiration for Spurs forward Bale.
Florentino Perez - recently re-elected as Real president - has claimed that he would have no problem sanctioning a record-breaking move for Bale, with £80million bids mooted.
Modric believes a transfer would be beneficial to all concerned, with the Bernabeu providing an ideal stage for a player of Bale's ability to showcase his talent.
He told Marca: "It is a complicated issue for me because I was at Tottenham with him. I can tell you that we're friends and that he is an exceptional player.
"A club like Real Madrid, Tottenham or anyone else can only benefit from having a player like that.
"If he signs or not is a matter for the clubs, but if he ends up at Real Madrid that can only be good for us.
"As Real Madrid is a team of stars, Bale would fit perfectly. He would give us a different dimension. He can shoot, has strength and speed and is the type of player who could help us take a step forward."
Future
It remains to be seen whether Bale will be turning out in the Spanish capital next season, but Modric insists he will be.
He has reiterated a desire to prove himself in Madrid, with reports linking him with a possible return to England and a reunion with former Real boss Jose Mourinho at Chelsea wide of the mark.
Modric added: "I have no doubt (I will stay). I want to remain at the best club in the world.
"It is a privilege to be here. I want to show more in the future and I am not thinking about anything other than continuing here next season.
"I think Real have only seen a little bit of my game. I can perform better and offer more. In the future I hope to do that and prove to the club and the fans that they were right to bring me here.
"I want to make sure that I have a good pre-season and prepare well for next season. That is important to me."