Florentino Perez says no Real Madrid bid for Tottenham star Gareth Bale
Real Madrid president Florentino Perez has confirmed the club have not made an offer for Tottenham star Gareth Bale.
Last Updated: 08/07/13 5:57pm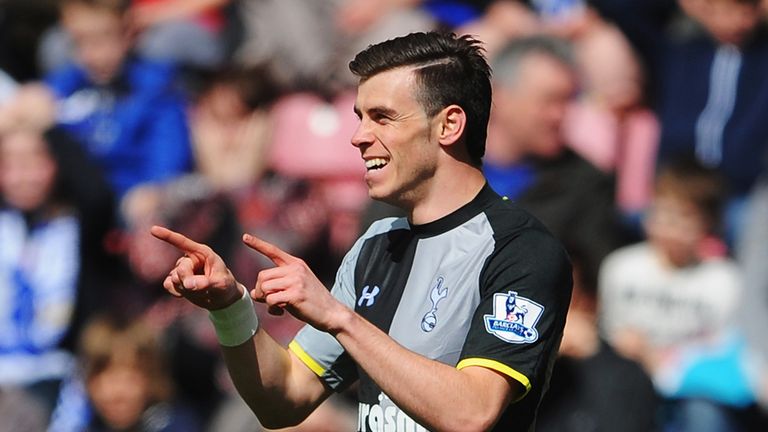 Last season's PFA Player of the Year and FWA Footballer of the Year has regularly been linked with a move to the Santiago Bernabeu and reports have claimed Real could make a bid this summer.
However, though Perez is a fan of the Wales international, he insisted that he had not been in touch with Spurs regarding the 23-year-old.
"He is a great player who belongs to a club we enjoy good relations with, but we have not made any offer," Perez said during an interview with Univision.
Despite the speculation, Spurs boss Andre Villas-Boas recently stated that he has been given assurances by chairman Daniel Levy that Bale will not be sold.
"The chairman said that we are not open to offers, whatever they are, and that the player will stay," he told Portuguese newspaper O Jogo.
"In football anything can happen, but these are the guarantees given to me.
"There was a moment last season when Gareth came to me because he was not comfortable out on the pitch.
"I do not know if it was my response or that he was glad to relieve the stress, but after that he became confident and played with freedom.
"He felt important and finished the year in style."
Luka Modric, who joined Real from Spurs 12 months ago, believes that the Bernabeu would provide an ideal stage for a player of his former team-mate's ability to showcase his talent.
He told Marca last month: "It is a complicated issue for me because I was at Tottenham with him. I can tell you that we're friends and that he is an exceptional player.
"A club like Real Madrid, Tottenham or anyone else can only benefit from having a player like that.
"If he signs or not is a matter for the clubs, but if he ends up at Real Madrid that can only be good for us.
"As Real Madrid is a team of stars, Bale would fit perfectly. He would give us a different dimension. He can shoot, has strength and speed and is the type of player who could help us take a step forward."
However, former Tottenham midfielder and manager Glenn Hoddle expressed his view recently that Bale is not yet ready to sample life on the continent.
Hoddle told The Sun: "If he does move, I think he will settle easier at another club in England. And the only ones he can realistically join are Manchester United and Manchester City.
"He could get Champions League football there. But I want him to stay at Tottenham."
As for playing in Spain, Hoddle added: "He is still young enough to secure a move abroad later in life when he could cope better with it."