Transfer news: Tottenham striker Jermain Defoe wants more options up front
Jermain Defoe insists Tottenham need to strengthen their forward line if they are to challenge for honours.
Last Updated: 12/07/13 9:41am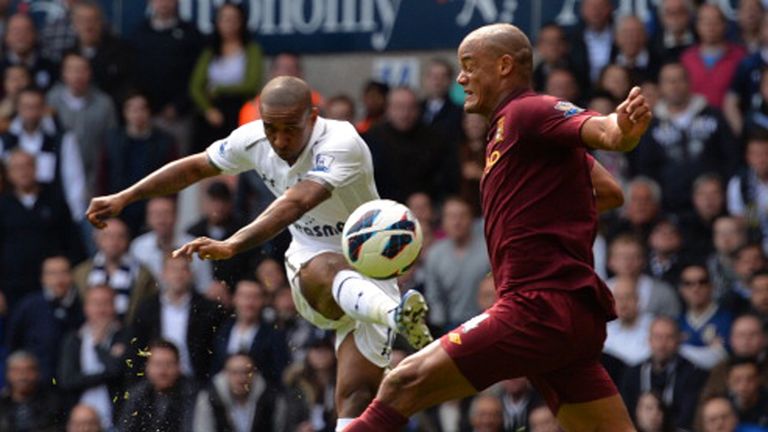 The Spurs striker has called on coach Andre Villas-Boas to add more options at White Hart Lane, with Emmanuel Adebayor the only other front-line forward on their books, although Gareth Bale and Clint Dempsey can both feature in advanced roles.
Adebayor has been linked with a move away from the north London club after struggling for goals last term, while Aston Villa's Christian Benteke is one player tipped to arrive.
And Defoe told The Sun: "I'm a forward but I can't be the only forward at a club. Over the years, the clubs who've won titles have had several strikers.
"When Manchester United won the Treble in 1999 they had unbelievable forwards like Andy Cole, Teddy Sheringham, Ole Gunnar Solskjaer and Dwight Yorke - you need that.
"If you want to do well it's important to have competition. It will definitely help us to bring more goals into the team."
Defoe has also seen his future with Spurs called into question but, speaking at the launch of the club's new away kit, he has brushed aside the speculation and admitted his main focus is playing regularly to secure a spot in England's World Cup squad.
He added: "People say 'This club's in for you, that club's in for you' but I don't take any notice.
"If someone comes in for you, your agent will tell you. It goes over my head. It's happened for years. All I can say is I was doing the kit thing so it looks like I'll be wearing it for the season.
"In a World Cup year it's important for me to play. It's based on merit. People will look at me and ask how many goals have I scored? To score goals you've got to play.
"I've got to score a lot of goals this season to get into the squad. A top club brings in top players. When you've something to fight for, you get the best out of yourself."