Tottenham's Jan Vertonghen to undergo scan after suffering ankle injury
Tottenham defender Jan Vertonghen is due to have a scan on the ankle injury he suffered against Sunderland.
Last Updated: 26/07/13 11:49am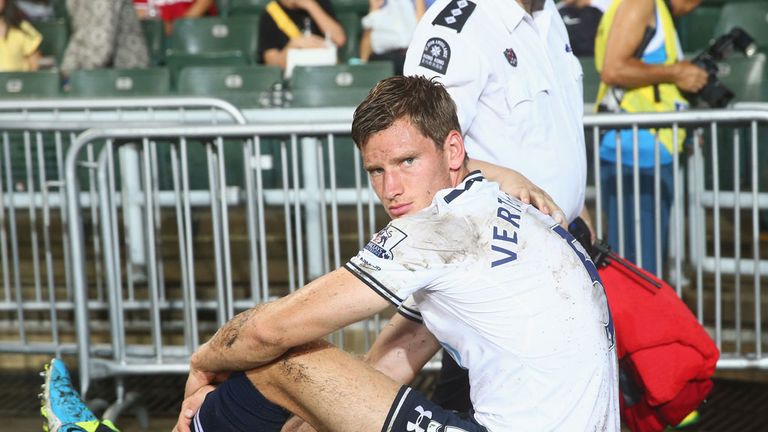 The Belgium international central defender, on as a second-half substitute, slipped on a rain-soaked pitch at the Hong Kong Stadium and was unable to continue.
Speaking after the match, Spurs boss Andre Villas-Boas was optimistic the damage was not too severe, although there are fears Vertonghen may not be fit for the start of the season.
"It seems like he twisted his ankle, it could be sprained ankle ligaments," said Villas-Boas.
"Hopefully there is not too much damage as he has a good range of movement still, but it is swollen a bit.
"We hope it is nothing very serious, the MRI scan is positive and he'll be back for the start of the season."
Villas- Boas also admitted the state of the playing surface had given him cause to worry, adding: "I was concerned but what can you do? It isn't great. The pitch is what it is. You can't change the conditions.
"It was impossible to play football as the conditions were extremely poor."
Tottenham defender Kyle Walker also felt the conditions were less than ideal.
"There was a lot of rain," he said. "The groundsmen did well to get the pitch fairly match fit.
"The game was reduced to 80 minutes, which was probably the safe thing to do.
"Jan's picked up a little niggle due to the pitch but you just have to deal with it."