Premier League: Richard Scudamore defends decision to play pre-season friendlies
Richard Scudamore says player safety was not compromised in Wednesday's pre-season friendlies in Hong Kong.
Last Updated: 25/07/13 4:44pm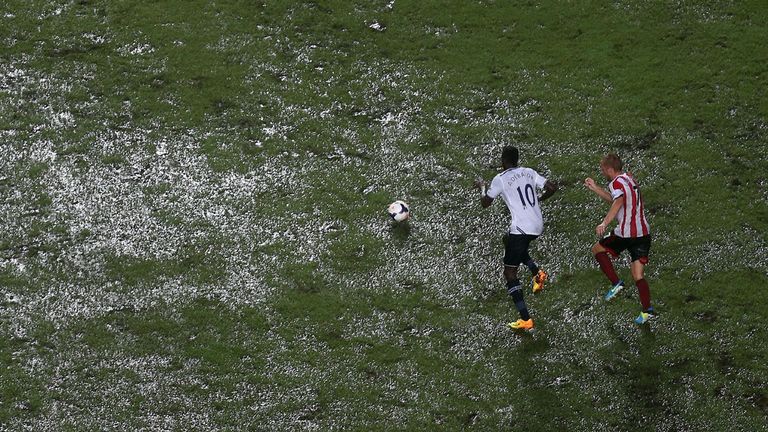 Torrential rainfall meant Tottenham's match with Sunderland was played out on a very wet surface after a half-hour delay and defender Jan Vertonghen may now miss the start of the Premier League season after injuring his ankle.
Spurs boss Andre Villas-Boas was angry about the state of the pitch but Scudamore says it was right that the Barclays Asia Trophy match, which was followed by a Man City v South China contest, went ahead.
"The heavens opened, it was just what we didn't want," said Scudamore. "But we'd thought it all through and had various contingency plans in place.
"With modern technology, we had a pretty accurate picture of what the weather was going to do in terms of the storms coming through, so we put the games back half an hour.
Right call
"The referees made the call, I think it was the right call. Our senior referees, Neil Swarbrick and Anthony Taylor, made the call that it was safe to play, but I think the half-hour gave us a chance because it meant we got both games in.
"Yes, I think it was safe to play. You play games in the Premier League and in the Championship in those conditions. There will be games played next season in those conditions, albeit temporarily.
"But if, at any point we thought it wasn't safe, we wouldn't have played it.
"It was a very simple, straightforward dialogue (with the managers) and they were keen to play. They left the decisions to the match officials as to whether it was safe and it was safe. The pitch drained very easily and they were good games."
More storms are forecast for the weekend and Scudamore says Saturday's games will be abandoned if players are considered at serious risk of injury.
"It doesn't put the fans off and the only issue is player safety," he said. "If, on Saturday, it's deemed that the pitch is unplayable, then we won't play."