Transfer News: Real Madrid's Iker Casillas backs Gareth Bale chase
Real Madrid captain Iker Casillas has backed their attempts to sign Gareth Bale.
Last Updated: 30/07/13 5:48pm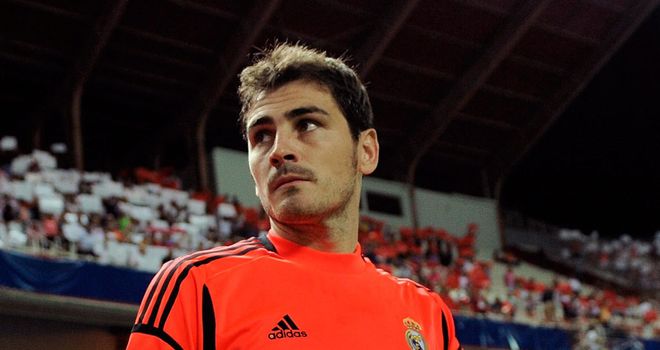 The Spaniards are continuing their pursuit of the Tottenham winger and Casillas issued a thinly veiled 'come and join us' invitation.
Madrid-based newspaper Marca, which is effectively a mouthpiece for Real, claimed on its front page on Tuesday that Spurs chairman Daniel Levy is demanding a fee of £126m, which would shatter the world-record fee for a footballer - the £80m Real spent on Cristiano Ronaldo in 2009.
Casillas, speaking on Real's tour of the United States, said: "We are talking about one of the top three or four best players in Europe and it's normal that his name is being discussed because he has all the qualities a footballer needs."
Casillas admits the Bale transfer is "controversial", but says that when it comes to a player like the Wales international, it should be expected.
"Every transfer is controversial in its own way, for better or worse, but we are speaking about a very good, decisive player," he said.
"I'm sure we'll make another signing before the transfer window shuts."
Barcelona star Javier Mascherano believes Bale's arrival would be good for Spanish football - even if it means the Welshman starring for bitter rivals Real.
He told Fox Sports Asia: "Always when players with quality come it is very good for the league.
"Bale is a player that has shown in the last three years that he is one of the best in his position."
Spain-based journalist Graham Hunter says the La Liga side are prepared to offer a huge sum to tempt the forward to Madrid.
"The briefing between Real and the Madrid media is that verbally - and I don't think there's a written offer - Spurs are aware that Real are willing to go to 93m euros for Gareth Bale.
"Real can't believe they'll have to go to the 100m euro mark to have a chance of signing this footballer but the briefing to the media is 'look how much we are willing to spend, more than we spent on [Zinedine] Zidane, [Cristiano] Ronaldo...'
"The general conviction is that [Real president] Florentino Perez - who has history of buying [Luis] Figo when Barcelona didn't want to sell, Zidane when Juventus didn't want to sell, Ronaldo from Inter Milan - is so intent on pulling this off it will still happen."
Bale scooped the PFA Player of the Year Award and numerous other plaudits for his superb 2012/13 campaign, in which he bagged 21 Premier League goals - but Hunter hinted Real haven't targeted the Wales international purely for his on-field attributes.
Instead, Hunter suggested the move could in fact be a response to Barcelona signing Brazil prodigy Neymar, who joined the Catalan outfit for 57m euros earlier this year.
"In football terms it's possible to argue Gareth Bale's brilliant skills and athleticism aren't necessarily the prime thing Real need right now," said Hunter. "It's not predominantly a football signing.
"Perez fears Barcelona are a big brand name, have the best player in the world in Lionel Messi, are very well equipped football-wise and have signed a phenomenon in Neymar.
"Those who watched him in the Confederations Cup and watched him at his most scintillating know there is a marketing phenomenon emerging there.
"Real do not want to be swamped on the football front, nor on the revenue generation front, nor on this thing called identity; they want to be the most loved club in the world and they do fear the Neymar effect. It is part of what's going on."