Transfer news: Gareth Bale at Tottenham training ground for treatment
Tottenham's Gareth Bale has been at the club's training ground as speculation continues over his future.
Last Updated: 31/07/13 5:20pm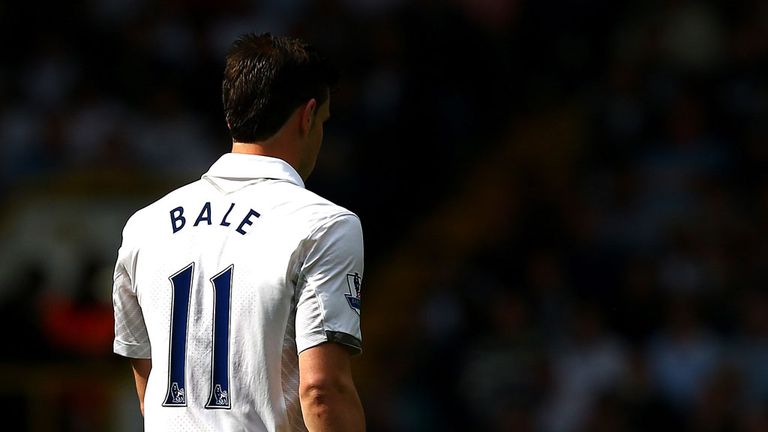 Spurs are remaining quiet on the world record bid of £86million that Sky Sports understands Real Madrid have made for the Welsh 24-year-old.
Bale was at Spurs Lodge for around five hours, leaving shortly after 2pm after undergoing treatment on a muscle injury.
He is also unlikely to be involved in the weekend friendly against Monaco with the Premier League campaign kicking off on August 17.
Tottenham fans will be more concerned with the winger's availabilty for the new season and whether their star player, who scored 26 goals and was named PFA Player of the Year and Young Player of the Year, will be heading to the Bernabeu.
It has been reported that Bale is keen on talking to Real representatives, while the Spanish club's director of football Zinedine Zidane believes the player should be given the opportunity to begin discussions.
Jamie Redknapp - a guest on Tuesday night's Football Season Preview show on Sky Sports - says the new offer made by the La Liga giants makes sense for Spurs and the player.
"Real Madrid are the biggest club in the world how can he turn it down?" said Redknapp. "I also believe Tottenham are a selling club, their history would suggest that. You go back to Michael Carrick, Modric and Berbatov - they do tend to sell.
"They always sell at the right price and I think there will be a conversation between Daniel Levy and Joe Lewis and I can only see one outcome - and that is he will be a Real Madrid player."
Real defender Sergio Ramos has also had his say on the Bale situation. Speaking on the club's US tour, Ramos said: "I think the mixing of veteran players as well as young players is a great philosophy.
"Not only as a team but in providing young people for some of us who have been here for so many years.
"Facing up to the challenges, and in that sense, those who are in a position to decide will leave us with our job to do.
"I think they have to work that out with (Real coach) Carlo Ancelotti, they must decide whether they need more players."
On Tuesday, Real keeper Iker Casillas also spoke out in favour of Bale moving to La Liga, saying: "We are talking about one of the top three or four best players in Europe and it's normal that his name is being discussed."
And even Barcelona's Javier Mascherano has backed Bale to be a success in Spain.
"Always when players with quality come it is very good for the league," he told Fox Sports.
"Bale is a player that has shown in the last three years that he is one of the best in his position."