Transfer news: Andre Villas-Boas to put record straight on Gareth Bale no-show
Andre Villas-Boas will today put the record straight on wantaway star Gareth Bale's absence from training on Tuesday.
Last Updated: 28/08/13 1:40pm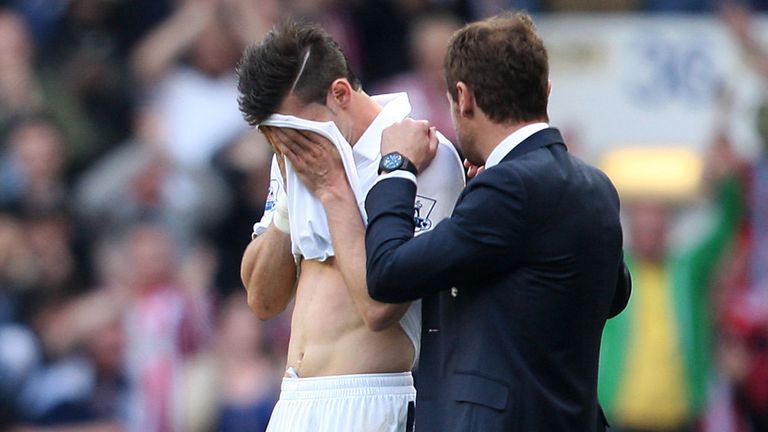 The Tottenham boss will hold a routine press conference ahead of their Europa League play-off game with Dinamo Tblisi.
But most of the questions are likely to be centred around the future of Bale and his on-off world-record move to Real Madrid.
Bale is reportedly "furious" with Spurs over their handling of the move and after he returned from a short break in Spain over the weekend, he was expected to return to training on Tuesday.
However, the winger did not show up and was seen in central London meeting his representatives.
Sky sources suggested Villas-Boas had "no issue" with Bale's no-show, and the manager is expected to put the club's version of events forward at lunchtime on Wednesday.
Tottenham are reportedly insisting they will not sell Bale to Madrid until they have signed at least one more player to replace him.
And chairman Daniel Levy is in no mood to be pushed around by the Spanish giants, with Spurs angered by Real's decision to erect a stage that was reportedly built to be used to unveil Bale on Tuesday.
Real have now stopped selling shirts with Bale's name on the back in a bid to avoid angering the north London club further.
Sky Sports' Spanish football expert Guillem Balague insists it is only a matter of time before Madrid overcome the tough negotiating of Tottenham, and the concerns of Cristiano Ronaldo, to sign Bale.
Balague told this week's Revista that Real believed they had agreed a deal to sign the Tottenham forward for 100m euros last Wednesday only for Levy to "move the goalposts" and Real to respond by submitting lower offer from the player, believed to be around 90m euros - potentially due to concerns from Ronaldo.
"Real Madrid on Wednesday that they had a deal but it has not been confirmed and it won't be confirmed until Daniel Levy decides so," Balague told Revista. "I think he is quickly becoming, if he hasn't already, the toughest negotiator in world football."
Balague continued: "On Wednesday night some of us were briefed that the deal was done. There was a fee agreed and it was about to happen. Some people mentioned Thursday or Friday as a possibility, then Monday or Tuesday.
"But Real Madrid were so clear that they had finally got an agreement that they put a stage up to received Gareth Bale and with it being a massive transfer fee they wanted to do it the way they normally do it with a lot of press and media and fans.
"The whole thing was geared up for the deal to come through. The fee had been agreed and it was just a matter of signing."
Number one
However, Balague says Spurs then "put the brakes on" and Madrid responded by tabling a lower offer of 90m euros due to the concerns of Ronaldo, who is currently negotiating a new contract with the club and wants to remain as the most expensive player in history.
"Real Madrid have changed the fee they have put in for Bale and Cristiano Ronaldo is the reason for it," Balague said. "Perez was going to pay 100m euros, which is more than the 96m euros they paid for Ronaldo, so Ronaldo and his people asked, 'what is this 100m'?
"So they (Real Madrid) say to Spurs, 'instead of 100m in six payments it is now going to 90m euros'. Cristiano Ronaldo still feels he has to be treated as the number one person and Real Madrid, so 96m euros should never be overcome. That is going to be interesting when it all happens and Gareth Bale goes to Real Madrid.
"Florentino Perez on one hand has this issue of having to deal with the happiness of Ronaldo and then with the issue of Daniel Levy just changing the goalposts a little bit. But in any case it just looks like a matter of time."