Sky sources: Real Madrid face wait for Gareth Bale until after Tottenham's derby with Arsenal
Tottenham are prepared to make Real wait for Gareth Bale until after their derby with Arsenal, Sky sources understand.
Last Updated: 30/08/13 4:09pm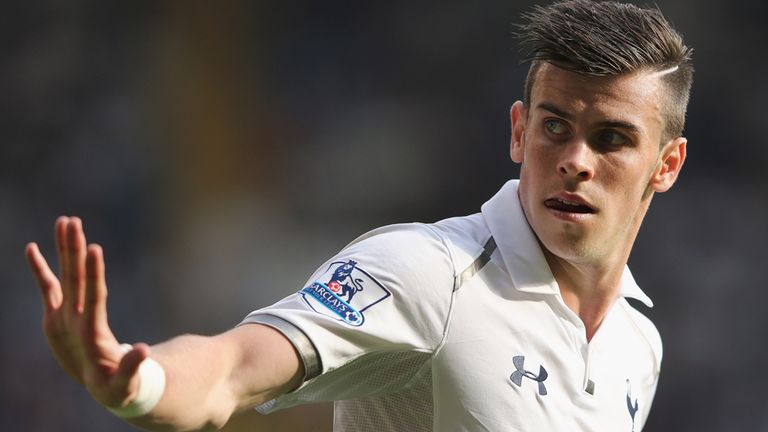 Bale's world-record £86m move to the Bernabeu has yet to be sealed as the player and his proposed new employers become increasingly agitated.
Real vice-president Fernando Fernández-Tapias accused Spurs this week of dragging their feet over the deal and warned that the Spanish side was a great one even without the winger.
The Wales international's representatives are understood to be holding talks with Tottenham chairman Daniel Levy on Friday in a bid to finally bring an end to the saga of the summer.
But it is thought Spurs are determined to string out negotiations until after Sunday's showdown, for fear of triggering a series of events that could see up to three players join the Gunners from Madrid.
Reports on Friday claimed Arsenal boss Arsene Wenger, under pressure to make signings before Monday's deadline, was willing to blow his entire transfer budget on Real trio Karim Benzema, Mesut Ozil and Angel Di Maria.
Spurs are also thought to have been irked by Real's decision to erect a stage to unveil their marquee man before the final handshakes.
Asked on Thursday if he thought that Bale would sign for Madrid, Fernández-Tapias said: "I think so, yes, but I could not swear to it entirely.
"We are going to wait and see what happens. Sometimes it is yes, sometimes it is no: they keep putting it off.
"(Bale) is not here, because there are problems there. We thought Bale was going to be with us by now but for the time being he is still not in Madrid.
"I don't doubt the value of the player but Real Madrid without Bale is still a strong Madrid. We have a great team."