Andre Villas-Boas says Tottenham are stronger as he targets top four
Andre Villas-Boas has thanked Tottenham chairman Daniel Levy for backing him in the transfer market.
Last Updated: 01/09/13 7:20pm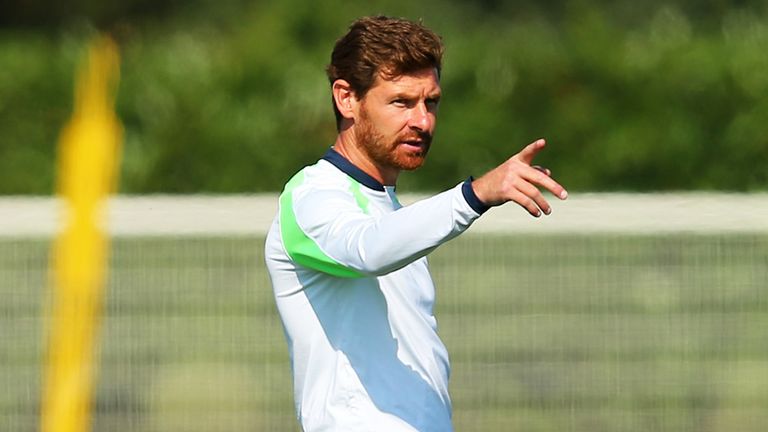 The future of Gareth Bale has dominated the headlines this summer and the Welshman is poised to join Real Madrid before Monday's deadline, leaving a massive void to be filled after he was named Premier League Player of the Year last season.
Spurs are set to receive a world-record fee for Bale and in preparation for his sale they have been proactive in the transfer market, making seven eye-catching signings and spending heavily.
Despite the imminent departure of Bale, Villas-Boas believes Spurs are stronger this term and is targeting victory over Arsenal in Sunday's North London derby to set them on the road to a top-four finish.
Speaking about the summer, Villas-Boas said in the Daily Star Sunday: "There was great team spirit and team bonding with the failure to reach the Champions League so fresh in our minds.
"And the players are very committed to achieving that goal this season.
"I gave the chairman my list and he's been massively supportive. A lot of managers would love that. There has been great investment from the club.
"We want to be up there with the elite. The money has been put forward and reinvested back into the team.
"We knew we could probably lose one of the most influential players in Bale, so our idea was always to make the team stronger than the year before - and for that to happen some heavy investment is required.
"I think that we are on the right track. We have the quality and strength in depth to achieve it this season.
"We are stronger now than the club that played Arsenal last year. We have more individual quality. I think that we did good things in the market to make us stronger and to give us the ability to rotate."
While he accepts that it will take time for his new-look side to gel, Villas-Boas believes his players will take on more responsibility in the absence of Bale and is particularly pleased to have Sandro back following a long-term injury.
He said: "We will see a much more fluent team game, rather than individual moments of brilliance that we had from Gareth - and which were very much appreciated.
"It is a chance for other players to step up their game.
"Last year we know the impact that Sandro's injury had on us, when he was the biggest retriever of the ball in the Premier League. I think we have built a very, very strong team now.
"We have a team to be built yet. We have had Chadli only since the start of August. Paulinho and Soldado have been with us only three weeks while Capoue only joined up just before the league started because of international duty.
"So at the moment we have a style of play but we also have to work on it with these players, which so far we haven't had the time to do."
Villas-Boas says he would have liked to have bought English players but claims every time he made enquiries, the prices he was quoted were too expensive.
He said: "I have spoken about this in the past. The problem is that the valuations in England are simply impossible to meet."