Tottenham 'irresponsible' over Hugo Lloris injury, says brain injury charity
A leading brain injury charity has criticised Tottenham for allowing keeper Hugo Lloris to play on after a head injury.
Last Updated: 04/11/13 11:51am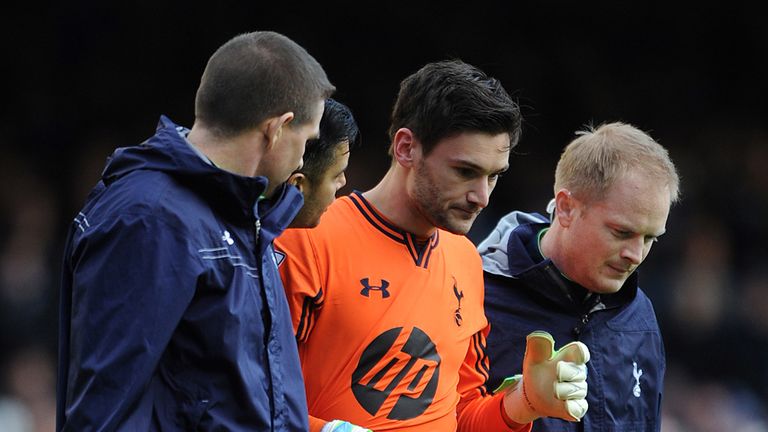 The France international was caught in the head when he collided with Romelu Lukaku late on in Sunday's goalless draw.
Spurs boss Andre Villas-Boas defended his decision to let Lloris continue after a lengthy delay, claiming the 26-year-old had seemed "focused and determined to continue".
But leading brain injury charity Headway said the club had displayed a "cavalier" attitude to the player's health, and that view has been supported by FIFA's chief medical officer.
Headway spokesman Luke Griggs said: "We are hugely concerned that a professional football club should take such an irresponsible and cavalier attitude to a player's health.
"When a player - or any individual - suffers a blow to the head that is severe enough for them to lose consciousness, it is vital they urgently seek appropriate medical attention.
"A physio or doctor treating a player on the pitch simply cannot accurately gauge the severity of the damage caused to the player's brain in such a setting as there may be delayed presentation of symptoms.
"Sports science has evolved significantly over the past decade and yet we're still faced with the antiquated concept that a player should be brave and try to continue at all costs. Mr Villas-Boas' comment that his player's determination to play on was proof of his 'great character and personality' is simply wrong and dangerous.
"You are not a hero if you play on after suffering a concussion; all you are doing is risking your health. Football has to react to this and bring in stricter measures to ensure no similar risks are taken in the future."
Headway CEO Peter McCabe later told Sky Sports News: "People shouldn't take chances with a head injury. It seems extraordinary that you wouldn't take the player off and have him properly checked out.
"It has to be a medical decision. When somebody has been knocked out they're in no fit state to make a sensible and rational decision and others have to take leadership for the benefit of the player.
"I think football is behind the curve and it's time the FA took some action so that decisions are not left to the heat of battle; that there's a protocol.
"We need to offer better protection for goalkeepers but what is absolutely clear is that if one is rendered unconscious by a collision there is no question they should be withdrawn from the field immediately."
FIFA's chief medical officer, Professor Jiri Dvorak, said: "The player should have been substituted. The fact the other player needed ice on his knee means it's obvious the blow was extensive.
"It's a 99 per cent probability that losing consciousness in such an event will result in concussion."
Villas-Boas admitted after the final whistle that his goalkeeper had not remembered the moment of impact.
"The medical department was giving me signs that the player couldn't carry on, because he couldn't remember where he was," Villas-Boas, speaking after the stalemate, said.
"But he was quite focused and determined to continue, so when you see this kind of assertiveness it means he is able to carry on, and that is why it was my call to delay the substitution.
"You have to make a decision in situations like this but from my knowledge of Hugo he seemed okay to continue."
He added: "It was a dreadful situation. You can imagine the impact of a knee going against a goalkeeper's head.
"It happened unfortunately to Petr (Cech) so it is good that the players immediately went to him and it is very fortunate that it was nothing serious."