QPR keeper Julio Cesar not a target for Sao Paulo as Heurelho Gomes slams Harry Redknapp
Sao Paulo have denied holding an interest in QPR keeper Julio Cesar after the Brazilian admitted he wanted a move.
By Paulo Freitas
Last Updated: 04/11/13 11:40am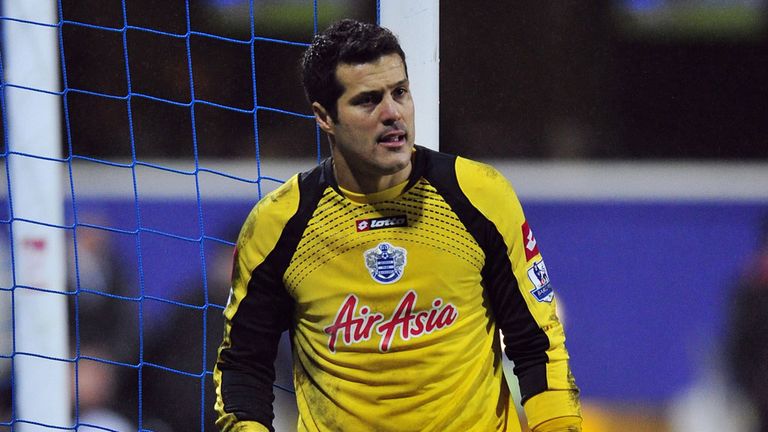 Cesar is currently recovering from a finger operation but he has not played for QPR this season and is keen to get some regular football under his belt leading up to the World Cup.
He has admitted that he is willing to listen to offers but Sao Paulo have now followed Internacional in ruling out a swoop for Cesar, while they have no plans to bring in Vagner Love or Fred either.
"We will do our planning as we identify our needs," vice-president Joao Paulo de Jesus Lopes told the Brazilian press.
"But for many reasons it's silliness to say we will sign Julio Cesar. I ask myself if it's a political attempt to unsettle [current goalkeeper] Rogerio Ceni or our board as we have a big affection for Rogerio."
He added: "There is no chance we bring in Julio Cesar, just like there is no chance we bring other problems. When I say problems, I am referring to Fred and Vagner Love, who are not our targets."
Cesar has also received the backing of fellow Brazilian goalkeeper Heurelho Gomes, who played under Harry Redknapp at Tottenham.
Gomes says he had problems with Redknapp and has suggested that the manager's treatment of Cesar at QPR shows that he finds it hard to work with Brazilians.
Gomes is quoted as telling ESPN Brasil: "Julio Cesar has a manager whose ideas are almost impossible to change.
"He was my manager at Tottenham and I had a lot of difficulties. He doesn't like South Americans much, especially Brazilians."
Gomes believes Cesar has to consider leaving Loftus Road if he continues to remain on the sidelines.
He said: "As for being a starter at the national team, they don't think much about that. Julio Cesar will have a lot of trouble if he stays at QPR. If he has the chance to leave, he has to leave so he can play.
"I know him very well and I know how good he can be.
"The goalkeeper is a position of manager's trust and if Scolari thinks Julio Cesar can play the World Cup and surely can, then he has to play at least from January onwards so he will be good and match fit for the World Cup.
"But it would be interesting if he started playing so the manager feels more confident."