Jan Vertonghen staying at left-back for now says Andre Villas-Boas
Andre Villas-Boas has told Jan Vertonghen he will have to continue playing at left-back until Danny Rose is available.
Last Updated: 07/11/13 10:29am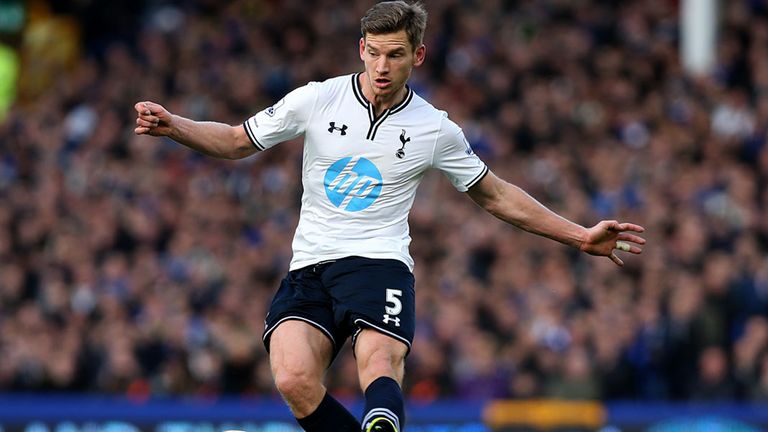 Rose has missed Tottenham's last 10 games with a toe injury and is unlikely to return until after the international break at the very earliest.
Kyle Naughton originally deputised for the England Under-21 star but Vertonghen has started down the left flank in their last three games and Villas-Boas says that is how things will stay despite the Belgian's clear preference for playing in the middle of defence.
"I have had lots of conversations with Jan regarding this situation," Villas-Boas said. "Unfortunately he has to sacrifice his position as centre-back for the team.
"His position at centre-back is not in question. He is one of the greatest central defenders I have worked with.
"He knows that and he knows that position is waiting for him whenever we have options at left-back. He has my word.
"He hasn't fallen in love (with playing at left-back). I know he doesn't like it, but it's no big deal. It's a decision I have to make for the best of the team.
"Funnily enough I told Jan I would be the first person on the phone to him when he goes to the World Cup and plays left-back."
Tottenham's manager has also lashed out at those who criticised his decision to leave Hugo Lloris on the field of play after the goalkeeper was knocked unconscious by Romelu Lukaku's knee at Goodison Park.
The Portuguese is unhappy that Everton striker Lukaku has not apologised to Lloris over the collision, which he thinks was avoidable.
"I'm disappointed that Lukaku hasn't contacted Hugo," the Spurs boss said.
"I don't question Lukaku's integrity or human side. I have maximum respect for him and I think he has for me.
"I don't want to question Lukaku, he's a young player, wonderfully gifted but I think he could have jumped over Lloris."