Everton boss Roberto Martinez backs Romelu Lukaku and says Tottenham have reason to apologise
Roberto Martinez has defended Romelu Lukaku in the wake of criticism aimed at him by Tottenham boss Andre Villas-Boas.
Last Updated: 07/11/13 1:04pm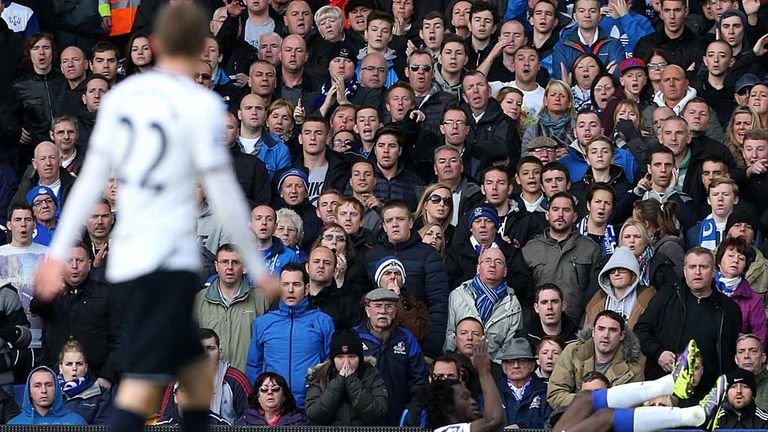 The Everton striker's inadvertent knee to the head of Spurs keeper Hugo Lloris on Sunday opened up arguments about concussions and whether the Frenchman should have been allowed to play on.
Villas-Boas said on Wednesday he was disappointed Lukaku had not been in touch with Lloris to apologise and claimed he had plenty of chance to get out of the keeper's way.
But Martinez feels his Spurs counterpart was off target with his comments and claimed if anyone should be apologising it was striker Roberto Soldado for an elbow on Phil Jagielka.
"The good thing is you can watch the replay and see the video evidence," the Everton manager said.
"All Romelu is doing is carrying on his run, he cannot disappear. It is unfortunate.
"I don't think Andre Villas-Boas mentioned there was any intent or any wrongdoing from Romelu, he only mentioned he expected a bit of an apology.
"Obviously we are waiting for Roberto Soldado to apologise to Phil Jagielka, and so we can use the same phone call so we don't have to spend on two phone calls."
Asked if Soldado should face retrospective action, he added: "That is not for me to comment. I don't think it would give anything to Everton.
"That is down to the authorities to decide whether they want to implement it. I am more about the referee making decisions in the game and whatever happens in the game is where it matters.
"I'm not too keen about retrospective punishment unless it (the action) goes against the values of the competition.
"I don't think they (officials) saw it, obviously, otherwise they would've acted accordingly. Nowadays you have action replays and you can see everything that happens but for the referee it is very difficult."
But Martinez does have a stronger view on the Lloris situation, feeling legislation should be brought in to protect players against the effects of concussion.
"My view is that I don't think it should be a manager's decision whether you take a player off or not," he said.
"If there is a strong view from the medical side that when a player gets concussed he should come off, I think we should look into it and make it a rule. It should be part of the game and a law.
"It shouldn't be the manager's decision or a game decision based on how the result goes, what type of game it is or how many substitutes have been used when it is a serious situation on the health of the player.
"In that situation you need to understand whether the player is in a position to make a decision.
"It is a decision to be made at the highest level and I think there should be a rule included for medical reasons, but I don't think it is a manager's decision."
Villas-Boas felt Lukaku could have done more to avoid the collision, but did not think there was any malicious intent.
The Spurs boss said: "I'm disappointed that Lukaku hasn't contacted Hugo.
"I don't question Lukaku's integrity or human side. I have maximum respect for him and I think he has for me.
"I don't want to question Lukaku, he's a young player, wonderfully gifted but I think he could have jumped over Lloris."
Villas-Boas also defended Tottenham's under-fire medical staff, saying: "I stand absolutely by the decision that I took.
"I stand by the decision the medical department took following the checks they made on the player all according to the book. I stand by the decision that gave us the green light for the player to continue."