'We can win the title'
Kyle Naughton pulls no punches as he talks exclusively to Sky Sports about Tottenham's Premier League credentials, bringing Newcastle 'down a peg or two', and revenge on Kyle Walker
By Peter Fraser - Follow me on Twitter @SkySportsPeteF
Last Updated: 09/11/13 4:32pm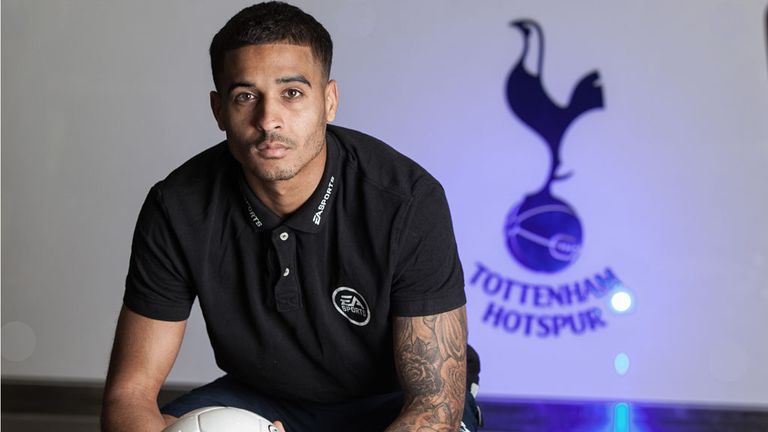 "I cannot see why we cannot challenge for the title." It is a bold statement from Kyle Naughton but the Tottenham Hotspur defender is clearly a man who likes to speak his mind.
From the Premier League-winning potential of Andre Villas-Boas' squad to hitting back at goal-shy Spurs' critics, telling fans to keep the faith, and writing off Newcastle United ahead of Sunday's game at White Hart Lane, the full-back did not pull any punches when speaking exclusively to Sky Sports at the Spurs EA SPORTS FIFA 14 Pro Player Challenge.
Naughton also gives the lowdown on the contrasting form of strikers Jermain Defoe and Roberto Soldado. And, at the same time, explains how he plans to get his own back on the notorious Halloween practical joke which saw him included among several Tottenham stars who fell victim to England's Kyle Walker scaring them in a cloak, hood and skeleton mask...
First things first, have you got your revenge on Kyle Walker yet for his prank at your expense?
"I have not got him back yet [laughing]. But I will be working on something, I am sure. We were going to do something to his room on an away game, like hiding under his bed and jumping out when he was going to sleep. But I will have to work on something new now I have told you!
Do you scare easily? You did not seem as frightened as some of your team-mates, who thought they were doing a TV interview in front of a Halloween set only to have Kyle jump out on them?
"I do not have any phobias. Normally things like Kyle tried are what make me jump. But I was standing in the front of the room and I was thinking, 'what's all this stuff behind me?'. So, me being nosy, I decided I wanted to have a look behind the boxes. As I walked behind, Kyle popped out. So it was not too bad and luckily you could not see my reaction, as I had my back to the camera. I think my face when I reacted was worse than the mask Kyle was wearing!"
Let's talk football and Tottenham had a good win against Sheriff Tiraspol in the Europa League on Thursday night. How important is it to take that momentum into the Premier League game against Newcastle?
"Throughout the game against Sheriff, we looked comfortable. We went 1-0 up and then it is always nice to get the second goal as we did. We now have to try and take it on against Newcastle. But Newcastle will be tough and they are a difficult team to judge. They have not been doing too well recently but I watched them against Chelsea and they upped their game. Hopefully we can knock them back down a peg or two."
Tottenham are five points off the top of the Premier League and you have also already qualified for the knockout stages of the Europa League. What can the club aim for this season?
"It is still early in the season but if we can keep all our players fit, I am sure we will be looking for the same as last year - which was to try and get in the top four. That is always a main aim. We also like to do well in the cups and Europe. We want to stick in with everything. We do not want to go out of one competition just to concentrate on another. We want to go for the best of everything."
Is the top four the only aim for Tottenham this season or can you win the title?
"It is difficult to say in the Premier League at the moment. You can see there are some teams who are up there who you would not expect, like Southampton. Then there are teams at the other end of the table, like Fulham and Newcastle, who are a bit further down the table and you thought would be the other way around. But I cannot see why we cannot challenge for the title. We have got a big enough squad and good enough players. But you never know. There are always Manchester City and Manchester United, who you are all waiting to come to top form. Arsenal are on top form and Liverpool are doing well."
Tottenham have a tough fixture list before Christmas and you play Manchester City, Manchester United and Liverpool in that period. How much will those games test your title credentials?
"Towards the end of the season, those are the teams you will be battling it out against. So, if you can take a few points from those teams, it will be vital for nearer the end of the season."
How pleased are you with your own career at this stage and the way you have established yourself at Tottenham?
"This manager [Villas-Boas], since he has come in, has put his arm around me and said he is going to give me a chance. He has stuck to that and I have played a few games now in the Europa League, in the Premier League and also in the cups. I am in and out of the team a little bit but until you get a good run of games and are fully fit, that is when you can try and make the position in the team your own."
What is Andre Villas-Boas like as a manager and what is your reaction to the criticism he has received for Tottenham's lack of goals?
"He is probably the best I have worked with up to now. You can talk about the lack of goals but, defensively, we have been keeping clean sheets and we are fourth in the table. So you cannot really argue with what he is doing. Maybe we could have one or two more goals but I am sure once we have played a few more games and once all the players gel, because it is quite a new team, there will be a big hammering coming up for someone soon."
Is it important for the fans at White Hart Lane to understand the new squad is in a building process?
"Definitely. It is always nice if the fans stick by you and believe in what you are doing. Hopefully that is what they do and then we will repay them by putting a few more goals in the back of the net."
Going back to Thursday night and Jermain Defoe's European goalscoring record for the club, what is he like as a team-mate and striker?
"All the lads have been congratulating him on his record. To play with him is great. He has got a good shot and always sticks it in the back of the net. He is someone you are proud to say you have played with. He is a good striker. You could say it is a surprise he has not got more England caps given his goalscoring at club level. Everywhere he has been he has put the ball in the back of the net. But there are also other English players, like Wayne Rooney, who have been doing a good job."
Another of your team-mates, £26million summer signing Roberto Soldado, is finding it more difficult to score goals. You get to see him in training every day and do you therefore expect him to soon show his class in the Premier League?
"In training, his finishing is like you would expect. I am sure he will start putting the goals away. We are working in training on giving him the ball a lot in good areas and once we can convert that into games you will see his finishing is top drawer."
Kyle Naughton was taking part in the Spurs EA SPORTS FIFA 14 Pro Player Tournament on Xbox One. FIFA 14 comes alive on Xbox One (out November 22nd) and Playstation 4 (out November 29th). Pre-order today from Game.co.uk to avoid missing out.