Premier League: Tottenham may start Emmanuel Adebayor against Manchester City
Emmanuel Adebayor could make his first appearance of the season against former club Manchester City on Sunday.
Last Updated: 24/11/13 12:36pm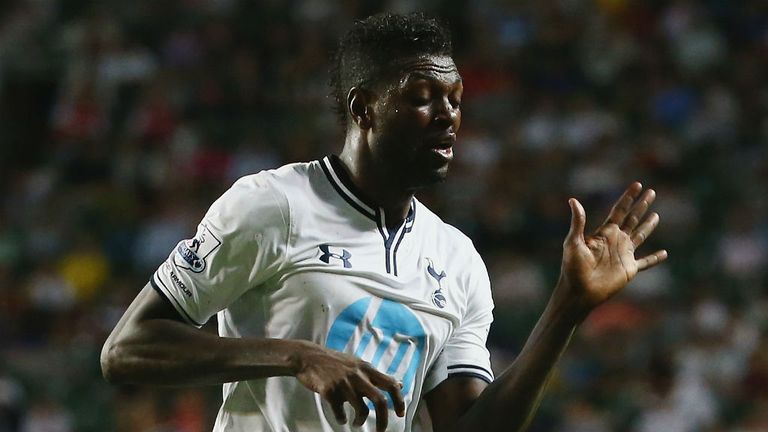 Adebayor was a key part of Andre Villas-Boas's side last season, but this term he has been forced out of the first-team squad by £26million signing Roberto Soldado.
The Togo forward has only been on the bench on one occasion so far, but Villas-Boas looks set to include him in his matchday party for the game.
Adebayor, who spent three years at City before an acrimonious split with then manager Roberto Mancini, played in a behind-closed-doors friendly at the club's training ground last week and Villas-Boas was impressed by the former Arsenal man's application.
"Our likely approach is to go with one up front (at City)," Villas-Boas said. "They (Soldado, Adebayor and Jermain Defoe) are very near each other at the moment and it could be a possibility that even Ade could play that game.
"These are all decisions that we have to take. We don't have enough reasons at the moment not to trust Soldado and Defoe because they've been excellent.
"Hopefully it's a decision that's best for the team and best for the strategy."
Villas-Boas is a fan of pitting players against their former clubs but fielding Adebayor would be a big risk, especially as he was sent off against another of his old teams Arsenal last season.
However, the facts suggest that Spurs need a change up front. Four years ago to the day, Spurs ran out 9-1 winners against Wigan, but this season they have scored nine goals throughout the entire Premier League campaign.
He added: "We haven't been able to find the back of the net as often as we should. But we are creating lots of chances. We just have to believe it will arrive that we are able to slot in all these chances."
Soldado has scored four goals in the league but only one has come from open play and the Spaniard admitted this week he had struggled to combine with his team-mates since his big-money move from Valencia.
The 28-year-old has played at the top of a 4-2-3-1 system and the Portuguese looks set to stick with a lone striker this weekend.
"We played 4-4-2 against a local team here during the international break," said Villas-Boas.
"We probably can revert to it in the future but I am unsure if it is the right time to change our formation, bearing in mind the fixtures we have coming up against Manchester City and Manchester United.
"We have been consistent in terms of chances created within the 4-2-3-1, so that is probably how we are going to do.
"(City) are a team full of great individual talent and they are very well managed. At this stage of the season to see a team with four defeats is extraordinary but it reflects how competitive the league is this season."
Watch Man City v Tottenham on Sky Sports HD1 from 12.30 on Sunday