Andre Villas-Boas rejects reports of dressing room unrest at Tottenham
Andre Villas-Boas has rejected claims of dressing room unrest at Tottenham following the 6-0 loss at Manchester City.
Last Updated: 27/11/13 8:49pm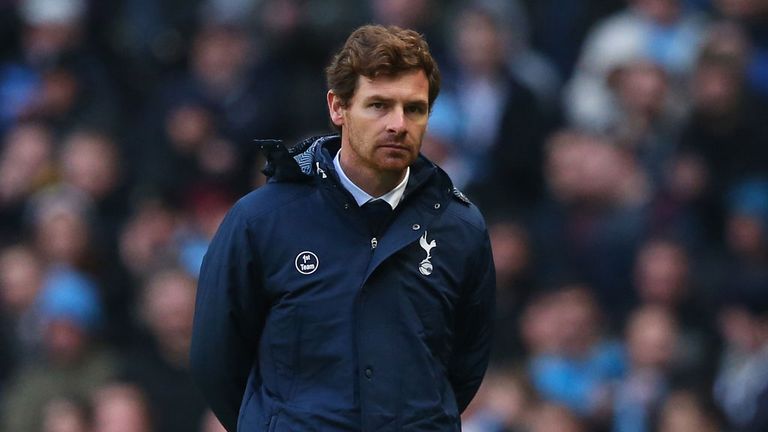 The pressure on Villas-Boas is mounting after Sunday's 6-0 mauling by Manchester City and a poor return of nine goals in 12 Premier League games.
However, Villas-Boas, who said he felt "ashamed" by the Eithad defeat, does not expect to sign a new striker in January and has no intention of letting Jermaine Defoe leave.
When queried about alleged problems with his players, the Spurs boss said: "That can only come from creative minds."
Tottenham are three points better off than they were at this stage last season but Villas-Boas admits he is concerned by their form in front of goal.
The north Londoners have had 168 attempts at goal this season, more than any other side in the top flight, but they also have the worst conversion rate - 5.4 per cent.
"The only thing that we can hold on at the moment is the reality that we don't score enough and we are worried about it," said Villas-Boas.
"We have to promote situations where we can do better with our chances. Obviously this is something we are working on and going to continue working on in the future.
"It doesn't mean that problems like this can be solved because sometimes you go through periods, although you try and you create so many chances, you don't actually score.
"We have great scoring ability in our team; we are the team that creates the most chances in the Premier League, so the chances are there but we are not finishing them off.
"We don't put into doubt the quality of our strikers but we haven't found the finishing touch yet. The only thing that we can do is continue to work."
Villas Boas does not expect to sign a striker in January and has no intention of letting Jermain Defoe leave.
"(Roberto) Soldado, Jermain Defoe and (Emmanuel) Adebayor are all proven goalscorers, so we can't really get much better than these three.
"The only thing that we have to do, if we are not scoring from the opportunities we are creating, is making sure that we double the amount of opportunities we create to make sure a couple of them finish in the back of the net."
He continued: "I can't stop stories coming out (about Defoe). At the moment the feeling is that the player is happy, he wants to get into the Premier League team for sure. His opportunities have come more from Europa League games.
"At this time we've started more games with Soldado but Jermain is working hard to get into the team."