Mousa Dembele insists Tottenham squad are behind Andre Villas-Boas
Mousa Dembele insists that manager Andre Villas-Boas has the full backing of the entire Tottenham squad.
Last Updated: 02/12/13 2:21pm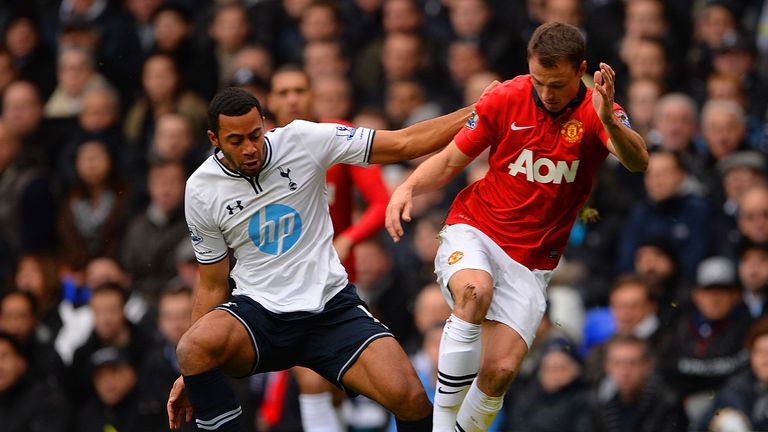 The Spurs boss has been under fire since his side lost 6-0 at Manchester City on 24 November and aired his frustration at those in the media who have been questioning his position following the 2-2 draw with Manchester United on Sunday.
However, midfielder Dembele says the Spurs players are behind their boss.
"Of course (we are)," he said. "The manager is working hard to give everyone confidence.
"The Man City result was not only embarrassing for the manager, but for us as well. People were laughing at us after that performance."
Dembele's midfield team-mate Sandro added that Villas-Boas was a popular figure among the players.
"Everyone likes him," the Brazilian said. "We have to play for him and I think everyone is doing that on the pitch.
"Criticism happens to any coach if you do not win games. He knows we are here and we showed him what we are going to do.
"I play for him every game. And for the club."
And Sandro was pleased with a much-improved performance from Spurs to claim a draw against the champions at White Hart Lane over the weekend.
"We played well, we played together," said the 24-year-old. "Last week was the worst week I have had in my career. I have to take this out of my mind.
"As a team we have to stay together in the bad moments and I think we are doing this. Everyone stayed together, talked and it was good."
Speaking after the draw with United at White Hart Lane, Villas-Boas called for an end to the negativity after hitting out at Daily Mail duo Neil Ashton and Martin Samuel, in particular.
Villas-Boas said: "A couple of people insult my integrity, my human values, my professionalism and one of these people is sitting over here.
"It insults the success that I have achieved in other clubs and I don't think it's fair. I think it's a lack of respect and an attack on a person's integrity.
"I don't want to undermine other managers. You can easily compare situations. We have sat above Man City before and above Man United before and we haven't seen any kind of these personal attacks to somebody so I think that is unfair.
"It's something that obviously comes with the 6-0 thrashing but more important is the team and the response and I think the players did that in great, great fashion."
Lord Sugar also questioned Villas-Boas' tactical approach in midweek and the former Tottenham chairman was also in the Portuguese's sights after the game.
"I think it's a very driven agenda by somebody that doesn't honour the club, neither myself nor my players," Villas-Boas said.
"It's their team, their passion and they don't trade it for anything else, not like Alan Sugar who trades it for money."