Premier League: Andre Villas-Boas delighted with Tottenham's win at Sunderland
Andre Villas-Boas was delighted to see Tottenham continue their recent recovery with a battling 2-1 win at Sunderland.
Last Updated: 08/12/13 8:08am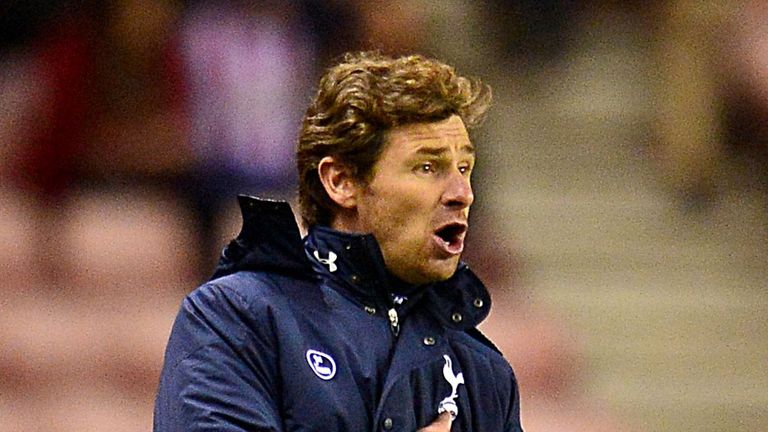 Since being hammered 6-0 by Manchester City at the Etihad Stadium on 24th November, Spurs have gone unbeaten through their last four fixtures in all competitions - winning three.
They have collected seven Premier League points during that run - from a home date with Manchester United and trips out on the road at Craven Cottage and the Stadium of Light.
Successes against Fulham and Sunderland have been secured after coming from behind and Villas-Boas believes Saturday's showing on Wearside shows how united the White Hart Lane camp has become.
He told Sky Sports: "It was a great win for the players, the players were absolutely outstanding. It's them that work hard on the pitch and sweat for us. They achieved a great, great win.
"It could have been one of those situations again where we rue our missed chances, but it wasn't and I think the only winner could have been Tottenham today.
"I think the result is entirely deserved and it puts us back on track near the top, where we want to be, and with a great spirit after the result suffered against Man City."
Spurs prevailed courtesy of a first-half leveller from Paulinho, after Adam Johnson had broken the deadlock, and an own goal from unfortunate Black Cats skipper John O'Shea.
The scoreline could have been more emphatic, though, with Jermain Defoe hitting the woodwork twice in the second half.
Villas-Boas added: "We got in so many great goalscoring positions that we could have slotted in, but we had to fight to achieve the win.
"It's a great win for Tottenham, a great fightback from the Man City result - already seven points into December, with two away fixtures and Manchester United at home.
"It's been a very important week for us. We came back from a very difficult situation - not only from the scoreline, but also from the league position. We have fought back without any help. It was important for us to put ourselves back on track."
The only negative against Sunderland was the sight of Mousa Dembele being forced from the field 17 minutes from time, with it unclear how serious the problem is.
Villas-Boas said of the Belgian midfielder: "I will have to assess him, I don't know yet. I think it's nothing serious, but he had to come off."