Premier League: Roberto Soldado says he is ready to find his best form at Tottenham
Roberto Soldado admits he has not yet hit the levels he should have for Tottenham since his summer move from Valencia.
Last Updated: 15/12/13 7:12pm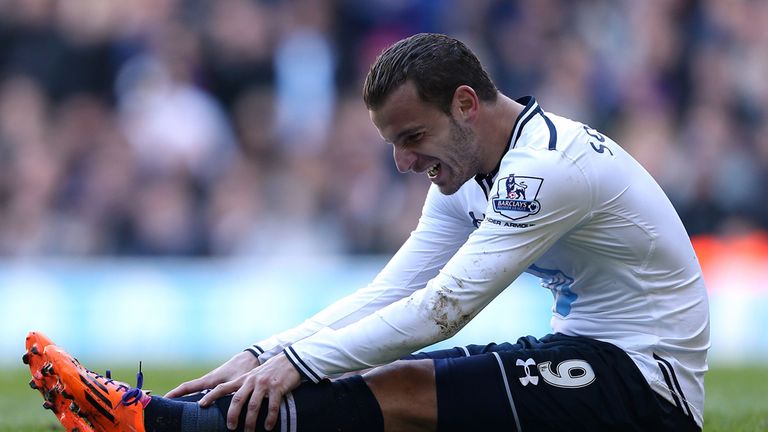 Tottenham splashed £26million on the 28-year-old, but he has scored just four times in 12 league stars and just once from open play.
But the Spanish international insists that he working hard and Spurs fans will soon see the best of him.
"Of course it is difficult, but I certainly don't think that a change of country and a new language is any excuse whatsoever for not performing at the level that I expect of myself," Soldado told the Daily Telegraph.
"I think that I've been here for long enough now to have a good understanding with my team-mates during a game which is the most important thing and let's hope that from now on you will start to see another Roberto Soldado."
Soldado insists his family are settling well into life in England, but admits they have had to overcome tragedy in recent weeks.
"My family feel fine and are settled, so am I, the only thing missing were the goals," he said.
"But a month ago my wife was pregnant but unfortunately she had a miscarriage and lost the baby two weeks ago."
Form
Soldado believes that his form will soon return and added: "It's difficult, I haven't played in the last two Premier League games and the team haven't been picking up good results either so to win the last two away games has been absolutely vital for us.
"I haven't had a chance to feature in those two games but I think that learning from everything is a way of attracting attention and seeing that you are doing things in the best way possible and respecting and waiting for your opportunity and then doing your talking on the pitch.
"I haven't been performing how I would have expected, this fan-support has always been unconditional and at least now I can show my gratitude to them with goals, which is what they want to see."