Premier League: Former Tottenham boss Glenn Hoddle open to a return to White Hart Lane
Glenn Hoddle would be open to a return to White Hart Lane following the sacking of manager Andre Villas-Boas.
Last Updated: 18/12/13 8:42am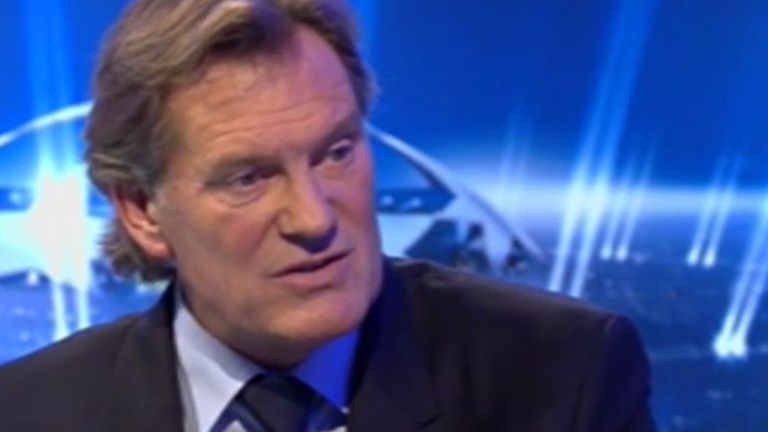 Hoddle has been linked with the vacancy after Andre Villas-Boas was sacked on Monday, less than 24 hours after a 5-0 home defeat by Liverpool.
Spurs have placed technical co-ordinator Tim Sherwood in interim charge of first-team affairs with former England boss Fabio Capello the bookmakers' favourite for the post full-time.
Hoddle has not worked in management since leaving Wolves in 2006 but a story on a website co-founded by the 56-year-old read: "Zapsportz.com understands that Hoddle will certainly help if the club makes an approach."
The former England manager played 377 times for Spurs between 1975 and1987 before returning for a two-year period as manager in 2001.
Hoddle has won the backing of another Tottenham favourite, Gary Lineker, who tweeted: "Would love to see Glenn Hoddle given another chance at this level. Has a brilliant football mind."
Sherwood's first assignment as interim boss will be Wednesday's Capital One Cup match against West Ham United.
A Tottenham statement read: "The club can announce that Tim Sherwood, Chris Ramsey and Les Ferdinand will take charge of the first team whilst the club progresses discussions. Steffen Freund and Tony Parks continue as part of the coaching staff.
"Jose Mario Rocha, Luis Martins and Daniel Sousa leave the coaching staff and we wish them well for the future."
Villas-Boas' predecessor Harry Redknapp is confident that Sherwood has the necessary credentials to become the leading man on a full-time basis.
"Tim should get the job permanently and work alongside Les Ferdinand," Redknapp told the Sun. "Together they are old-school Spurs and would do a tremendous job.
"I brought them both back to the club because they understand the place. They are great coaches and don't forget, Tim was captain at Blackburn when they won the league in 1995."
Other names linked with the post include Guus Hiddink and Michael Laudrup, whose agents have ruled them out of the running, and former Tottenham striker Jurgen Klinsmann.
Klinsmann signed a new four-year contract with the USA last week, but USA football president Sunil Gulati insists that the deal was not just to fend off interest from the likes of Tottenham.
"We've obviously read some of those things," said Gulati.
"On a specific level, none of those things were critical to us. The desire to make sure we had a long-term commitment from Jurgen, and he had one from us, was part of it, and market dynamic does dictate some of that.
"So we're not oblivious to the fact that Jurgen over the last two years has had an extraordinary run with the national team and that would bring a lot of interest from the outside.
"Sure, some of that matters, but not specifically the Switzerland or Tottenham issues, but generally a coach that has done very well, that has an international reputation, who speaks multiple languages would be sought after.
"So the desire to have a commitment from him, contractually, for a long period of time, that matters, of course."