Premier League: Tim Sherwood hopes decision on new Tottenham manager is made soon
Tim Sherwood hopes the permanent successor to Andre Villas-Boas at Tottenham will be decided "sooner rather than later".
Last Updated: 23/12/13 7:34am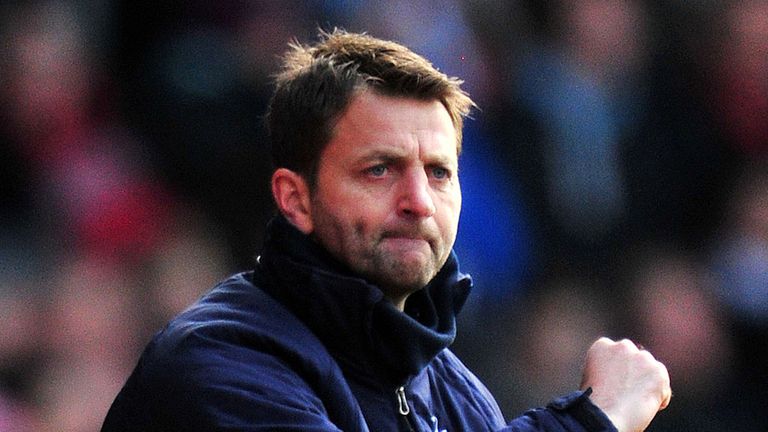 Forgotten striker Emmanuel Adebayor scored twice in Sunday's Premier League clash at St Mary's, cancelling out Adam Lallana's opener before sealing the win in the 64th minute after Jos Hooiveld's own goal matched Rickie Lambert's score.
"I never said I wanted the job and I never said I don't want the job," Sherwood told Sky Sports 1.
"I've got to talk to the chairman and see where they want to take this football club."
Asked when that will be, Sherwood said: "Sooner rather than later, as these players need a manager.
"Hopefully I will speak to the chairman tonight. I don't want it (the job) on a temporary basis. I want it for the long term. It's got huge tradition but at the end of the day, it's got to be right for me."
It was the second game in charge for the former Blackburn and Spurs midfielder, and unlike the Capital One Cup home defeat by West Ham in midweek, this match ended with a much more favourable result for the north London club.
"You enjoy when you win. I didn't enjoy the first half," Sherwood said.
"I thought we were poor and didn't keep the ball enough. In the second half, after we had a chat, we took it on and showed what quality players we have.
"Emmanuel has not been playing so it doesn't take much (to inspire him).
"In the second half, they (Adebayor and Roberto Soldado) looked a threat. It's a squad game. They've all got to take their part. There are a lot of games coming thick and fast."
When asked about the formation he had chose, Sherwood added: "It's my way. It's the way I like to set teams out. There are no rules. There are different ways to win football matches. You do what you believe and that's the way I think you should win football."