Transfer news: Tim Sherwood rules out any moves from Tottenham on deadline day
Tim Sherwood says there is no chance of Tottenham signing anyone before the transfer deadline.
Last Updated: 03/02/14 3:47pm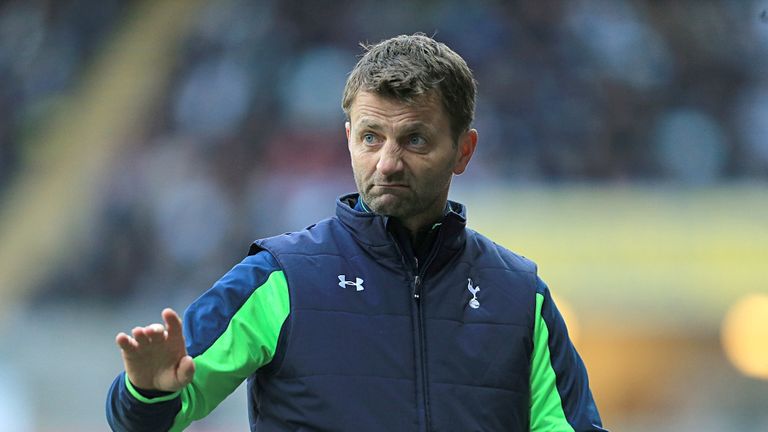 The Spurs coach has allowed Lewis Holtby to join Fulham on loan and will lose Jermain Defoe when the striker moves to Toronto at the end of February.
However, he says he is very happy with the strength of his squad heading into the last four months of the season.
"It's very very unlikely, unless something dramatic happens," said Sherwood. "Certainly I'm happy with the squad, happy with the numbers. If the window closed now I'd be fine."
Sherwood revealed that chairman Daniel Levy had offered to fund any deals, adding: "To be fair, Daniel's always asking: 'Are you sure you don't need to strengthen in this area? Can I help you in this or that area?'. I'm saying: 'Look, I'm confident in the players we've got and I don't need any help to strengthen, thanks very much'.
"I've said from day one that we've got a lot of players at the club, and I've not changed my opinions just because it's deadline day.
"I know it's hectic out there, I know the fans will be out there and they'll want another 10 signings, but believe me it's not always the correct way to go about it - just to buy players and throw them at a manager."
Spurs have been knocked out of the FA Cup and Capital One Cup since Sherwood replaced Andre Villas-Boas, but are chasing a top four spot and resume their Europa League campaign next month.
"I've got confidence in the numbers that we've got here between now and the end of the season," added Sherwood.
"It's like putting a jigsaw together and hopefully we've got some players who are coming back to fitness, which is very important for us, and I've got real trust in this squad to take us where the club want to go."