Europa League: Tottenham's Jan Vertonghen denies play-acting against Dnipro
Tottenham defender Jan Vertonghen has denied that he play-acted in a bid to get a player sent off against Dnipro.
Last Updated: 01/03/14 12:34pm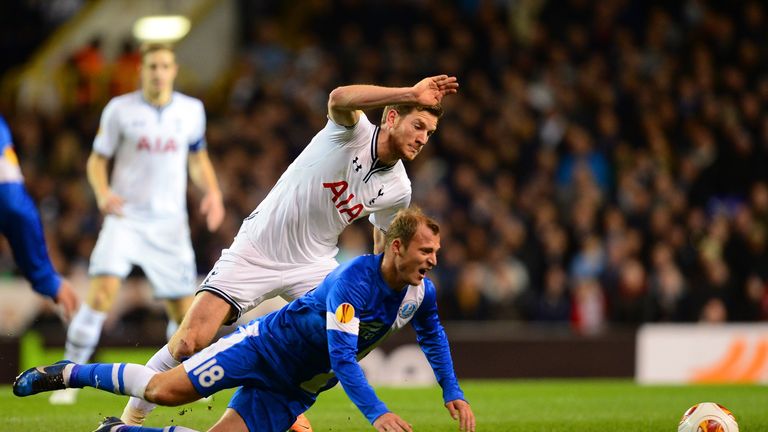 The Belgium international found himself at the centre of controversy in the second half of the round-of-32 second-leg tie at White Hart Lane, after being involved in an altercation with Dnipro goalscorer Roman Zozulya, which saw the striker handed a red card for the incident.
The dismissal infuriated Dnipro's players and coaching staff, with the Ukrainian side feeling the decision cost them progression to the last 16 of the competition.
Vertonghen has protested his innocence and insists Zozulya should be to blame for lashing out at him.
"I walked into him, I think, I walked again and he gives me one," said Vertongen. "Then I go down.
"He gave me a reason to go down and I think it's his fault, not mine.
"I had a thing with him all game long, and in the away game actually. It was fair until then.
"It could have been the turning point."
Meanwhile, Vertonghen admits Spurs have set their sights on winning the Europa League and finishing fourth in the Premier League.
They face Benfica in the next round of the Europa League, while they trail Liverpool by six points in the race to finish fourth in the table and claim a coveted Champions League spot.
"The Europa League and fourth is what we want," added Vertonghen.
"We lost last weekend against Norwich but we want to make something nice of this tournament as well.
"Like we saw last year when we reached the quarter finals, we can go far.
"Eventually, it is a very nice tournament."