World Cup: Jermain Defoe insists MLS Toronto move will help his England hopes
Jermain Defoe insists his MLS move to Toronto will benefit his hopes of inclusion in England's World Cup squad.
Last Updated: 07/03/14 9:18pm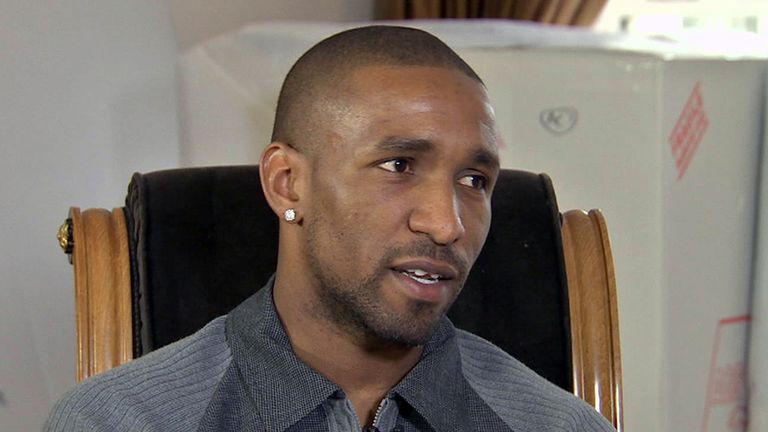 The forward left Tottenham at the end of last month after signing a four-year contract with the Canadian MLS outfit, managed by head coach and former Tottenham defender Ryan Nelsen.
Defoe took time out from packing for the trans-Atlantic trip to speak to Sky Sports' Geoff Shreeves in an exclusive interview for Weekend Warm-Up.
He said: "I wasn't looking for a move, I was at Tottenham for a long time and enjoyed my time there.
"I keep saying I had a special relationship with the fans and the club. I had a lot of friends there, a lot of the boys had been there for a long time.
"I wasn't looking to move, but it got to the situation where I wasn't playing. I was playing European games and I felt sharper then ever, scoring goals.
"I was hoping to get the opportunity to play in the league, something every player wants to do, and I just wasn't getting the opportunity and there was no explanation for it.
"So I thought if a club does come in for me, then I have to consider it."
Defoe was an unused substitute at Wembley in the 1-0 victory over Denmark ahead of travelling to Canada and he admitted the summer's World Cup in Brazil was foremost in his mind when signing his Toronto deal.
He added: "The first thing I thought about is obviously the World Cup - everyone who's played in the World Cup before knows it's the pinnacle. It's the best thing.
"To get a taste of that again would be special. But then I thought I suppose if I'm playing football and I'm sharp and I'm fit, then that's the most important thing.
"I would like to think that at this stage of my career, the (England) manager knows what I can do. It's just a case of being happy and maybe moving on and scoring goals."
The prolific forward first moved to Tottenham from West Ham in February 2004, making 177 appearances and scoring 64 goals, before leaving to join Portsmouth in January 2008.
He returned a year later, registering a further 187 appearances and 79 goals.
Shreeves candidly asked the prolific striker whether his move to North America would damage his chances of making Hodgson's 23-man squad for Brazil.
Defoe said: "Being in the Premier League my whole career, and moving on to a different league but playing football and hopefully scoring goals and hopefully being sharp, I don't see why that should change anything.
"People said the same thing when Beckham went. At the time, people were saying why is he going, he's still fit and has a lot to offer. I don't know there are many reasons. The opportunity came up and I thought it was a good one at the age of 31."
The Englishman revealed that he would consider a return to Tottenham in the future, on loan, during the MLS off-season.
He said: "It's already been mentioned at Tottenham. Yeah. I think a lot of boys do that, Clint Dempsey went back to Fulham, so you never know. Coming back to Tottenham, scoring a few goals would be nice."